Pitney Bowes DM60 Mailmark Franking Machine
The Pitney Bowes DM60 Mailmark franking machine is an entry level model supplied by Pitney Bowes and it is ideally built for small businesses that send up to 30 items of mail per day. This is based on our experience with a very similar franking machine. This model is small and compact in size and can fit onto any office desk.
Pitney Bowes DM60 Mailmark Franking Machine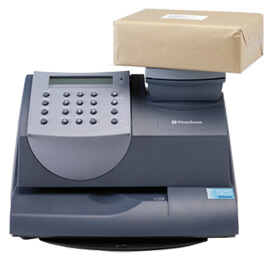 Advertise your business on every item of mail that you send out with the DM60 Mailmark franking machine. Simply create personalized graphics, upload to the machine and you will be ready to promote. Personalized messages or adverts can be franked, and this will help expand a business name and increase profits.
An integrated 2.5 Kg weighing scale will help eliminate the possibility of miss paying for a mail item and smart meter technology will allow businesses to access all VAT applicable services with the DM60. As well as this the DM60 can be used by anyone, coming with easy to use functions and manual feeding.
Click here to view a range of Pitney Bowes DM60 franking machine supplies.
Mailmark Technology
For further franking discounts the DM60 franking machine comes with the latest and brand new Mailmark technology. This service is integrated into the franking machine as standard and can provide businesses with even more benefits and features, including lower postage discounts. Find out more about Mailmark technology here.
Further Details for the Pitney Bowes DM60
View the latest details and up to date features that the Pitney Bowes DM60 Mailmark franking machine possesses below.
Franking Speed:

30 letters per day

Envelope Feeding System:

Manual

Scale Options:

2.5 Kg

Connectivity Options:

LAN or WiFi

Maximum Envelope Thickness:

9.5mm

Job Memories:

Yes

Advertisements / Slogans:

Yes, 5

Departmental Accounts:

Yes, 10

PIN Security:

Yes

Smart Meter Technology:

Yes

Mailmark Technology:

Yes

Length Dimension:

351mm

Depth Dimension:

264mm

Height Dimension:

231mm
View our range of franking machines here and receive an instant franking machine quote for a similar machine to the Pitney Bowes DM60.