Pitney Bowes DM300M Postage Franking Machine
Pitney Bowes are the world's leading franking machine manufacturer and a worldwide supplier of franking machines. As such they offer a massive range of different models that can benefit certain businesses. One of their most recent machines is their DM300M postage franking machine which is a low to mid volume franker that is ideal for mail volumes reaching 300 items per day.
Pitney Bowes DM300M Postage Franking Machine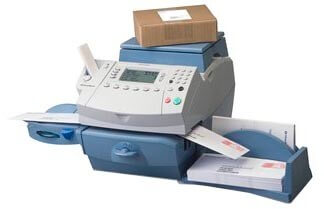 The Pitney Bowes DM300M postage franking machine is a replacement machine for the DM300c, meaning it comes with more advanced features as standard. One such feature is Mailmark which can now give customers access to even lower postage savings. Mailmark will frank a 2D barcode onto your mail and benefit your business more than ever before.
As well as Mailmark, the DM300M franking machine comes with semi-automatic feeding. This means that clean and precise franking will always occur and at a speed of 65 letters per minute. The latest franking prices are always up to date in the machine and this will ensure accurate postage is always applied.
The DM300M postage franking machine is very easy to use and comes with one touch buttons. This means that everyone in the business will be able to frank mail with even more ease. Other features that can be used include smart meter technology, an integrated weighing scale and adverts.
Click here to view a range of DM300M franking machine supplies.
Further Information
View even more information about the Pitney Bowes DM300M Postage Franking Machine below.
Top Franking Speed:

65 letters per minute

Feeder Used:

Semi-Automatic

Weighing Scales:

Yes, 5 Kg, 7 Kg, 12 Kg & 35 Kg

Connection Type(s):

LAN

Max. Envelope Thickness:

9.5mm

Job Imprint Memories:

Yes, 10

Advertisements:

Yes, 20

Departmental Accounts:

Yes, 100

PIN Security:

Yes

Smart Meter Enabled:

Yes

Mailmark Compliant:

Yes

Differential Weighing:

Yes

Dimensions:

L: 370mm, D: 435mm, H: 315mm
View our latest range of franking machines here and receive instant franking machine quotes for a similar model to the Pitney Bowes DM300M Postage Franking Machine.