Pitney Bowes DM220i Postal Franking Machine
Manufactured and supplied by Pitney Bowes, the DM220i is one of their low volume models. It is one of the newer low volume franking machines available from Pitney Bowes, and it was introduced to replace the older and standard DM220i range of franking machines. The Pitney Bowes DM220i postal franking machine is ideal for sending up to 200 items per day, based on Mailcoms' experience with similar models.
Details About the Pitney Bowes DM220i Postal Franking Machine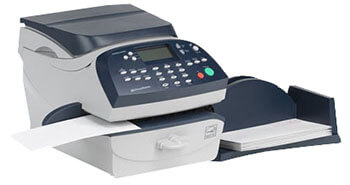 The Pitney Bowes DM220i postal franking machine is another recent low volume model from Pitney Bowes, and as such it possesses most of the latest franking capabilities. Both Mailmark and Smart Meter franking technologies come as standard with the DM220i and multiple options are available with its available features.
As a low volume franking machine the Pitney Bowes DM220i is designed for handling lower volumes of mail, but it can handle more if and when required. A pass through feeder is used to process mail and this is at a top speed of 45 franks per minute on a maximum envelope thickness of 9.5mm.
The Pitney Bowes DM220i postal franking machine is an upgrade to the DM160i and as such possesses all of this machines features and more. Up to 100 departmental accounts are available and a 5 Kg weighing scale comes as standard, both improved features.
Businesses will be able to improve the look of their mail items as a advert and a Mailmark impression can be franked. This will help expand the business name and improve the readability of the mail item, being very beneficial to the business and Royal Mail. Store as many as 20 adverts and store job memories for even quicker job setup.
Click here to get some Pitney Bowes DM220i franking inks and labels.
DM220i Key Specifications
Take a gander at the most up to date DM220i specifications, as stated by Pitney Bowes.
Top Franking Speed:

45 letters per minute

Feeding System:

Pass through

Maximum Envelope Thickness:

9.5mm

Connectivity Options:

Wi-Fi or LAN

Weighing Platform Options:

5, 7, 12 or 35 Kg

Advertisements:

20

Departmental Accounts Options:

100

Job Memories:

5

PIN Security:

Yes

Smart Meter Technology:

Yes

Mailmark Technology:

Yes

Differential Weighing:

Yes

Auto-Dating:

Yes

Low Postage Funds Warning:

Yes

Low Ink Warning:

Yes

Length of the DM220i:

345mm

Depth of the DM220i:

400mm

Height of the DM220i:

230mm
There are many postal franking machines currently available on the market, with the DM220i being one of them. Here at Mailcoms we can supply our very own range of postal franking machines at a low cost, without the hassle of using sales people. View our range of franking machines here and receive a low cost quote for a postal franking machine similar to the DM220i.