Pitney Bowes DM220i Mailmark Franking Machine
The Pitney Bowes DM220i Mailmark franking machine comes with all the franking features included with the DM160i franking machine as well as many improved features. Process mail at a speed reaching 45 letters per minute, benefit from using 100 departmental accounts and have an integrated 5 Kg scale included with the machine.
Pitney Bowes DM220i Mailmark Franking Machine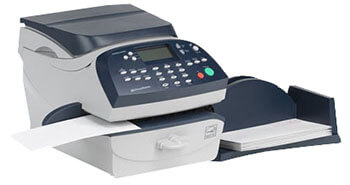 An array of cost saving features are included with the DM220i Mailmark franking machine such as smart meter technology and a weighing scale. Smart meter will allow businesses to reclaim any VAT on VAT applicable services and a weighing scale will help eliminate any chance of miss paying for a mail item.
Expand your business name via the use of advertisements with the DM220i model. Up to 20 adverts / slogans can be stored on the machine for quick and easy access and this will enable businesses to benefit from publicity. This tool is basically a free marketing tool and can help increase profits, all from your mail.
Click here to view a range of Pitney Bowes DM220i franking machine supplies.
Mailmark Technology
This low to mid volume franking machine supports the latest Mailmark technology, allowing businesses to benefit from even more franking benefits. Extra features included with the DM220i model include a new 2D barcode impression, lower franking prices and easier re-crediting. Find out more about Mailmark technology here.
Further Details for the Pitney Bowes DM220i
View the latest details and up to date features that the Pitney Bowes DM220i Mailmark franking machine possesses below.
Franking Speed:

45 letters per minute

Envelope Feeding System:

Pass Through

Scale Options:

5, 7, 12 or 35 Kg

Connectivity Options:

LAN

Maximum Envelope Thickness:

9.5mm

Job Memories:

Yes, 5

Advertisements / Slogans:

Yes, 20

Departmental Accounts:

Yes, 100

PIN Security:

Yes

Smart Meter Technology:

Yes

Mailmark Technology:

Yes

Length Dimension:

345mm

Depth Dimension:

400mm

Height Dimension:

230mm
View our range of franking machines here and receive an instant franking machine quote for a similar machine to the Pitney Bowes DM220i.