Pitney Bowes DM160i Mailmark Franking Machine
A faster method of sending mail, a more enhanced image portrayed and ease of use are just some of the many benefits that a franking machine such as the DM160i can offer you. Use the Pitney Bowes DM160i Mailmark franking machine to process mail at a speed of 40 letters per minute and set up any job within minutes.
Pitney Bowes DM160i Mailmark Franking Machine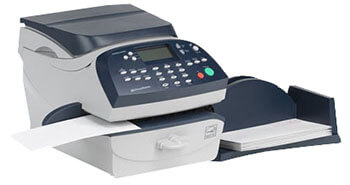 Any member of staff can benefit from using this franking machine and almost all can learn how to frank within minutes. Job memories can be stored on the DM160i Mailmark franking machine for common jobs and clear on screen prompts and guides will ensure anyone can frank. Franking mail could not be any simpler.
There are a range of other useful features available such as smart meter technology and a weighing scale. These features will help ensure you never again miss pay for a mail item and that you reclaim money on any VAT service used. As well as this departmental accounts can be used to track and report on up to 25 accounts.
Mailmark Technology
The Pitney Bowes DM160i model is also Mailmark ready for businesses meaning that a new method of franking can occur. A 2D barcode impression will be franked onto mail items instead of the traditional method. There are many extras and benefits to Mailmark including even lower postal tariffs, connection to a LAN and a more professional business image. Find out more about Mailmark technology here.
Further Details for the Pitney Bowes DM160i
View the latest details and up to date features that the Pitney Bowes DM160i Mailmark franking machine possesses below.
Franking Speed:

40 letters per minute

Envelope Feeding System:

Pass Through

Scale Options:

2.5, 7, 12 or 35 Kg

Connectivity Options:

LAN

Maximum Envelope Thickness:

9.5mm

Job Memories:

Yes, 5

Advertisements / Slogans:

Yes

Departmental Accounts:

Yes, 25

PIN Security:

Yes

Smart Meter Technology:

Yes

Mailmark Technology:

Yes

Differential Weighing:

No

Length Dimension:

345mm

Depth Dimension:

400mm

Height Dimension:

230mm
View our range of franking machines here and receive an instant franking machine quote for a similar machine to the Pitney Bowes DM160i.