Pitney Bowes DM160i Mailing System Review
The Pitney Bowes DM160i franking machine is a low volume franking machine that is suited for businesses that send smaller volumes of mail on a daily basis. Based on our experience with a very similar franking machine to the DM160i mailing system, we recommend businesses to send at least 200 items of mail per day or less (on average).
Pitney Bowes DM160i Mailing System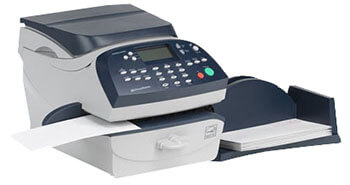 The DM160i mailing system comes with many useful franking machine features. The features included with the Pitney Bowes DM160i franking machine are helpful and can help benefit any business. The latest franking technologies, a pass through feeding system and a built-in weighing scale are just some of the features included.
Pass Through Feeding
A pass through feeding system is used when franking mail with the DM160i mailing system and this makes franking slightly more convenient and easy for all. Process up to 40 letters per minute with the DM160i and frank onto any mail item up 9.5mm thick.
Integrated Weighing Scale
A weighing scale comes as standard with the DM160i franking machine and this will ensure you accurately pay the correct postage every time. A 2.5 Kg scale comes as standard and this comes with the option of an upgrade. Never miss pay for a mail item again.
Mailmark Compatibility
The Pitney Bowes DM160i mailing system is Mailmark compliant and this technology is available as standard. This piece of technology can benefit businesses even more when franking. Mailmark basically means the franking machine will frank a 2D barcode onto your mail and you can benefit from using lower postage discounts.
LAN Connectivity
As a Mailmark franking machine, the DM160i mailing system can connect to a LAN connection and drop the analogue line for good. LAN connectivity gives the franking machine a more secure internet connection for re-crediting and downloading and applying updates, being very beneficial.
These are just some of the many franking machine features that come with the Pitney Bowes DM160i mailing system. Other beneficial features include storing job memories, using smart meter technology, using departmental accounts and franking a company logo.
If you would like to purchase some franking machine supplies for the DM160i then view our range of Pitney Bowes DM160i franking ink & labels here.
Save money when buying a similar franking machine to the Pitney Bowes DM160i with us. Simply view our range of franking machines here and get a quick quote.