Pitney Bowes DM160i Franking System
The DM160i is one of Pitney Bowes' low volume franking machine models and it is perfect for businesses that send up to 200 items of mail per day (on average). The DM160i franking system is manufactured by Pitney Bowes and it comes with a few franking machine features. Find out more about the DM160i franking machine below.
About the DM160i Franking System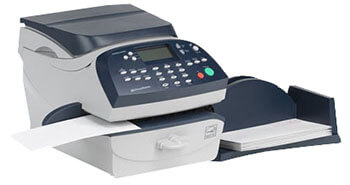 If you wish to upgrade to a Mailmark compliant franking machine or if you are a new business that sends up to 200 items per day, then the Pitney Bowes DM160i franking system may be just what you need. This machine allows you to frank a company logo on your mail, it allows you to be in control of your postage expenditure and it allows more money to be saved per day.
There is no need to have one person in charge of using the franking machine as the DM160i franking system is very easy to use. A helpful control panel and various one touch buttons are available to make franking very easy for all. From the machines control panel countless features can be used including advertisements, job memories and departmental accounts.
An integrated weighing platform is included as standard in the DM160i franking machine meaning postage will accurately be weighed and calculated all the time. As well as this the latest franking technologies are a standard benefit. Benefit further from franking with smart meter and Mailmark.
Click here to view our range of Pitney Bowes DM160i franking machine supplies.
Further DM160i Details & Specifications
View more Pitney Bowes DM160i details and Pitney Bowes DM160i specifications below.
Franking Speed:

40 letters per minute

Feeder:

Pass Through

Maximum Thickness:

9.5mm

Weighing Platform(s):

Yes, 2.5, 7, 12 & 35 Kg Option

Job Memories:

Up to 5 are available

Advertisements:

Up to 20 are available

Departmental Accounts:

Up to 25 are available

Smart Meter Technology:

Yes

Mailmark Technology:

Yes

PIN Security:

Yes

Length:

34.5cm

Depth:

40cm

Height:

23cm

Weight:

6.8 Kg
Find out more about the Pitney Bowes DM160i franking machine here.
Are you interested in the Pitney Bowes DM160i franking system? View our range of franking machines here and receive a franking machine quote for a similar model.