Pitney Bowes DM150i Franking Machine – Guide By Mailcoms
Pitney Bowes DM150i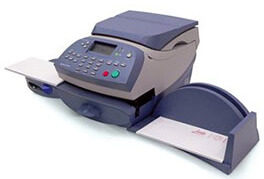 Low to Mid Volume Franking Machine (Speed of up to 40 Franks per minute)
The Pitney Bowes DM150i low volume franking machine will aid any business producing a small amount of mail a day, as it has relativity slow speeds of up to 40 franks per minute. This machine however is very reliable and will give you all of the franking machine benefits, including pricing advantages, that any other franking machine will gain. Improve the mailing process by having a Pitney Bowes DM150i machine, and reap the benefits.
Not only can the Pitney Bowes DM150i benefit any business, but it also comes with a inbuilt 2.5KG weighing scale. This will aid your business when calculating postage prices as this franking machine will do it for you automatically. As well as this, you can also send a promotional message to your customers on your mail items. This will allow your mail to attract customers before they open the mail, and it will aid your business massively.
Receive a low cost Franking Machine Quote for a similar franking machine
View our entire range of Pitney Bowes DM150i Franking Machine Supplies
Pitney Bowes DM150i Specifications
Speed: 40 Letters per minute
Feed Method: Semi-Automatic
Scale: 2.5KG weighing scale
Max. envelope thickness: 9.5mm
Connection Method: LAN Connection or Telephone Line
Job memories: Yes
Envelope size: DL, C5 & C4
Mailmark Compatible: No
Dimensions: Height: 230mm, Width: 345mm, Depth: 400mm, Weight: 6.8KG
Pitney Bowes DM150i Running Costs
Ink: £64.95 for around 5,000 prints
Franking Labels: £16.95 per 1,000
Logo & Return Address: Free
Service Agreement: £199.00 per annum
Royal Mail Rate Updates: Free
Installation Charge: Free
Postage Top Up Fees: Free
Why Not Share This?