Pitney Bowes DM110i Franking Machine Overview
The Pitney Bowes DM110i franking machine is a low volume, Mailmark ready model. Coming with a top franking speed of 25 letters per minute and a recommended daily amount of 100 mail items, the DM110i can be considered a entry level franking machine. Based on our experience with a similar machine, 100 items per day should be franked to truly get the most out of this franking machine.
Pitney Bowes DM110i Franking Machine Features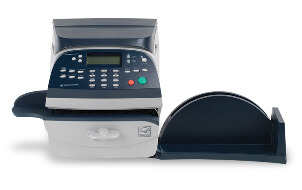 The Pitney Bowes DM110i franking machine can offer users an impressive array of franking machine benefits that can save you time and money. These features range from the money saving Mailmark technology to the time saving feeding system. View some of the many franking machine features the DM110i possesses below.
Smart Meter Technology
One franking machine feature that comes as standard with the Pitney Bowes DM110i franking machine is smart meter technology. By being smart meter enabled users can frank in smart blue ink and use all of Royal Mail's products and services. VAT usage is reported and paid VAT can be easily returned via an automated statement.
Feeding System
The feeding system used with the Pitney Bowes DM110i franking machine is a pass through feeder. This feeder can process mail up to 25 letters per minute when in full operation. At this speed as many as 100 mail items per day can be franked but this is only a recommendation. Frank any mail item that is 9.5mm thick with this model and improve the look of your mail with this low volume machine.
Mailmark Technology
As well as smart meter technology the latest Mailmark technology can also be used with the DM110i machine. By being Mailmark ready this franking machine allows you to use lower franking prices and frank a new 2D barcode impression every time. This impression brings with it many benefits including mail tracking.
Accounting Feature
An accounting feature also comes as standard with this franking machine allowing businesses to monitor and track postage expenditure. Ensure that you are in complete control over your postage expenditure by PIN code protecting the machine and limiting the people who can use the DM110i. Benefit from using all 10 departmental accounts with this machine, all of which can be PIN code protected.
LAN Connectivity
One final feature that can be used with the Pitney Bowes DM110i franking machine is a LAN connection. As this is a Mailmark franking machine, the traditional analogue line can be dropped for a super fast LAN connection. Receive faster download speeds and top up the franking machine whenever you desire. A LAN connection can be very beneficial in comparison to an analogue line and so should be taken advantage of.
View our range of franking machines here and receive a franking machine quote for a similar franking machine to the DM110i.