Neopost IS420 Franking Machine Overview
The Neopost IS420 franking machine is one of Neoposts' low to mid volume machines, suited for any business sending up to 300 mail items per day. This is based on our own experience with a similar franking machine. If you send this much, or slightly more, on a daily basis then the IS420 may be just what you are looking for. Fast speeds can be reached to enable higher productivity levels with this model.
Neopost IS420 Franking Machine Features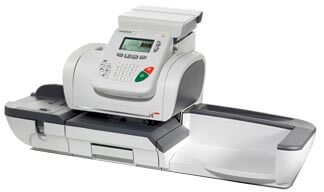 Like all franking machines the Neopost IS420 franking machine comes with a wide range of unique franking machine features. These features range from a semi-automatic feeding system to a very useful accounting feature. View some of the IS420's main features in detail below.
Feeding System
One feature that comes as standard with the IS420 is it's semi automatic feeding system. This system can process mail at speeds up to 65 letters per minute. This can help businesses reach higher productivity levels. Frank onto any mail item up to 12mm thick and process a recommended amount of 300 mail items per day with ease.
Weighing Platforms
If you are tired of over paying for your mail then this can change by using the Neopost IS420's integrated weighing scales. Choose from 3, 5, 10 or 30 Kg scales and accurately weigh and price every mail item you frank. This will prevent and eliminate your business from over or under paying for a mail item.
Accounting Feature
Another feature that the Neopost IS420 franking machine possesses is an accounting feature. This feature can help you monitor and record all postage expenditure that occurs. Gain access to up to 100 PIN code protected departmental accounts to limit postage expenditure and help you keep on top of your expenses.
LAN Connectivity
You can drop the analogue line for good and use a much faster LAN connection with this model franking machine. Improved reliability and faster download speeds are just two over powering benefits of using a LAN connection. Receive a lesser chance of disconnecting from the internet with LAN and reap the benefits.
Mailmark Technology
A final feature that the Neopost IS420 franking machine can offer is the latest Mailmark technology. This machine is a Mailmark ready model which means that businesses can frank a new 2D barcode onto outgoing mail as well as benefiting from the lowest franking prices. The latest generation of franking is available with the lowest tariff prices with the IS420 machine. Find out about Mailmark here.
Get low cost franking machine ink for the Neopost IS420 franking machine from Mailcoms. View our range of Neopost IS420 franking machine supplies here.
View our range of franking machines here and save money on a franking machine.