Neopost IS280 Franking Machine Overview
The Neopost IS280 franking machine is a low volume model suited for business sending out up to 50 items of mail per day. As this machine can frank at a top speed of 20 letters per minute more than the recommended amount can be franked. This is only a recommendation as this machine is flexible enough to frank even more mail if required.
Neopost IS280 Franking Machine Features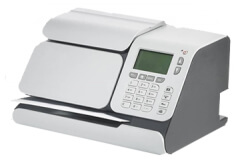 This low volume franking machine comes with a huge range of franking features and they can benefit all businesses. The features range from an integrated weighing scale to various job memories to the latest technologies. View some of its best features below.
Feeding System
One feature that is present in the Neopost IS280 franking machine is a manual feeding system. This feeder enables a top speed of 20 letters per minute to be reached and as many as 50 items per day to be sent. Frank onto any mail item that is 8mm thick or less and franking labels are available for your larger parcels.
Mailmark Technology
The latest Mailmark technology can be used in this franking machine if you wish to benefit from more savings and a new 2D barcode impression. This service is optional for the IS280 and so doesn't have to be used by businesses. Tracking of mail and using a secure LAN connection are just two benefits of using this franking machine.
Accounting Feature
An accounting feature is available with the Neopost IS280 franking machine and this allows up to 10 departmental accounts to be on this machine. Monitor and track all your mail with ease and ensure you are in control of your postage. Use PIN code security as well on your IS280 accounts to help keep this franking machine safe and secure.
Job Memories
For ease of use this machine comes with various job memories as standard for your most commonly used jobs. Store up to 5 job memories on this machine and access them quickly and easily via an easy to follow screen. Franking mail could not be any easier or quicker with this feature.
Smart Meter Technology
A final franking machine feature that can come as standard with the Neopost IS280 franking machine is smart meter technology. If you use Royal Mail VAT services then this technology is mandatory to use. Use all Royal Mail VAT services and frank in smart blue franking ink with this technology. Smart blue ink is used to help improve the franking impression produced.
If you would like to purchase some franking ink for the IS280 then view our range of Neopost IS280 Franking Ink & Labels here.
Save money when buying a similar franking machine to the Neopost IS280 with Mailcoms. View our range of franking machines here and get a quick quote today.