Neopost IS-6000c Mailing System Review
The Neopost 6000c franking machine is a heavy duty franking machine that is designed for businesses that send over 1000 items per day. Based on our experience with a similar franking machine to the IS-6000c mailing system, we recommend businesses to send at least 1000 items of mail per day (on average) to get the most out of the machine.
Neopost IS-6000c Mailing System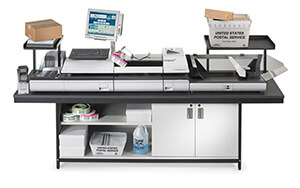 The heavy duty IS-6000c mailing system comes with a range of franking machine features. The features included with the IS6000c franking machine can benefit any business. The latest franking machine technologies, automatic feeding and using the optional power conveyor stacker are just some of the features included.
Automatic Feeding System
A fully automatic feeding system is used when franking with the IS-6000c mailing system. This can process much more mail per day and comes with a top franking speed of 260 letters per minute. This feeder is capable of franking onto any mail item up 20mm thick, with franking labels being available for thicker items.
Adjustable 15" Full Colour Touch Screen
An adjustable 15″ colour touch screen comes with the IS-6000c mailing system as standard and this enables quicker job setup. Clear prompts and guides are available with this feature and almost anyone in the business can benefit from using it when setting up a mailing job.
Mailmark Compatibility
The Neopost IS-6000c mailing system is Mailmark compliant and this means businesses can benefit from using even lower franking prices. Unlike the IS5000 & IS6000 models, the IS-6000c comes with Mailmark. This will produce a 2D barcode onto your mail and offer you more franking benefits.
Power Conveyor Stacker
An optional power conveyor stacker can help drive maximum franking system performance. Consistent feeding of mail items will occur and this will decrease the amount of steps required to frank mail. This feature could prove to be very beneficial to any user.
These are just some of the many franking machine features that come with the Neopost IS-6000c mailing system. Other beneficial features include an integrating weighing scale, smart meter technology, using a LAN or WiFi connection and using an automatic label dispenser.
If you would like to purchase some franking machine supplies for the IS-6000c then view our range of Neopost IS-6000c franking ink & labels here.
Save money when buying a similar franking machine to the Neopost IS-6000c with us. Simply view our range of franking machines here and get a quick quote.