Neopost IJ40 Franking Machine – Guide By Mailcoms
Neopost IJ40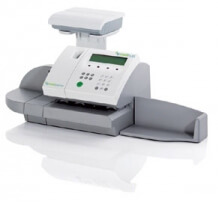 Mid Volume Franking Machine (Speed of up to 60 Franks per minute)
The Neopost IJ40 mid volume franking machine is compact and quiet to use, meaning it will not disrupt your workforce. This is a very convenient features as the Neopost IJ40 will be able to fit into any office building, and not disrupt staff. Not only this, but this franking machine uses high inkjet technology, helping to produce a high quality, clean and crisp frank for your mail. This will help improve the look of your mail, as it will look far more professional to customers, improving your brand image.
Not only does the Neopost IJ40 have this impressive features, but it also has a built in 2KG weighing scale and all of thee most recent franking prices built into the machine. This allows for quick and easy use as the machine will automatically calculate the postage costs with little human interaction required. Also with a automatic feeder, the Neopost IJ40 is perfect for all businesses franking about 400 items of mail a day.
Buy or rent a Neopost IJ40 Franking Machine here
Receive a low cost Franking Machine Quote for a similar franking machine
View our entire range of Neopost IJ40 Franking Machine Supplies
Neopost IJ40 Specifications
Speed: 60 Letters per minute
Feeder: Automatic
Scale: 2KG weighing scale
Max. envelope thickness: 9.5mm
Connection Method: Analogue Line
Job memories: 5
Label dispenser: Yes
Envelope size: DL, C5 & C4
Smart Meter: No
Mailmark Compatible: No
Dimensions: Height: 250mm, Width: 385mm, Depth: 380mm, Weight: 8KG
Neopost IJ40 Running Costs
Ink: £54.95 for around 12,500 prints
Franking Labels: £16.95 for 1000
Logo & Return Address: Free
Service Agreement: £249 per annum
Royal Mail Rate Updates: Free
Installation Charge: Free
Postage Top Up Fees: Free
Why Not Share This On Social Media?