FP Mailing Mymail Franking Machine Information
The Mymail franking machine is one entry level franking machine that is manufactured and supplied by FP Mailing. As a entry level machine it is suited for smaller businesses just starting to frank mail. It comes with a limited amount of features as a entry level model but if you only send out up to 30 items per day then a mailing system like the Mymail will be great for you.
FP Mailing Mymail Franking Machine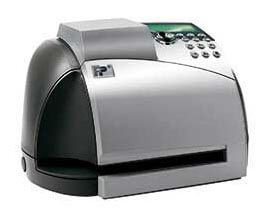 The FP Mailing Mymail franking machine uses a manual feeding system to frank. This means that a top franking speed of 15 letters per minute can be reached when franking mail items 6mm thick or less. For thicker items compatible franking labels are required. This machine will use inkjet printing when franking to help produce a clean and clear franking impression every time.
The latest smart meter technology is integrated into this franking machine to help businesses use all services liable to VAT. As smart blue ink will also be used with smart meter, even clearer impressions will be produced. To keep the Mymail safe PIN code security can be used to individually protect all departmental accounts on this machine meaning unauthorized staff members cannot use this franking machine.
Mailmark Compatibility
Recently FP Mailing have confirmed that the Mymail franking machine Mailmark ready. This means that users can upgrade this entry level machine to become Mailmark compliant. Gain immediate access to a range of exclusive features and benefits with Mailmark. Lower franking discounts, connection to a LAN line and tracking of mail are some of the added benefits. Find out more about Mailmark here.
Mymail Specifications
View the key specifications of the FP Mailing Mymail franking machine below.
Speed:

15 Letters per Minute

Feeding System:

Manual

Weighing Scales:

2 Kg

Connectivity:

LAN

Max. Envelope thickness:

6mm

Adverts:

3

Departmental Accounts:

3

PIN Security:

Yes

Smart Meter Technology:

Yes

Mailmark Technology:

Yes
If you would like a franking machine similar to the FP Mailing Mymail then view our range of franking machines here.