Matrix F82 Postal Franking Machine
A stainless steel, heavy duty feed table is available with the Frama Matrix F82 postal franking machine and this is designed specifically for higher volumes. This will provide hassle free mail processing of various letters up to 10mm thick, with larger letters and packets being processed via franking labels.
Matrix F82 Postal Franking Machine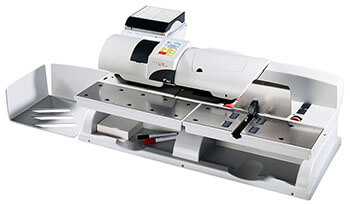 Designed for ease of use, the Matrix F82 postal franking machine from Frama comes with various one touch buttons and a clear screen. Up to 36 one touch functions and a clear touch screen are available and this will enable anyone to frank mail. From here access job memories, departmental accounts and advertisements.
Process up to 140 letters every minute with the Frama Matrix F82 and ensure all volumes of mail are sent out the door on time. Also ensure you never again miss pay for a mail item as an integrated weighing scale will accurately weigh all mail every time. Use either a 2, 5 or 30 Kg scale to your advantage.
The latest franking technologies are also a standard feature with the Matrix F82 franking machine. This means businesses can benefit from Smart Meter and Mailmark technologies, both of which will benefit any business. Access all VAT applicable services, use smart blue franking ink and access even lower franking prices with these technologies.
Click here to view a range of Matrix F82 franking machine supplies.
Matrix F82 Key Details
View the key details and features that the Matrix F82 postal franking machine possesses here.
Speed:

140 LPM

Feeding System:

Automatic

Weighing Platforms:

Yes, 2, 5 or 30 Kg Available

Connectivity:

LAN

Maximum Envelope Thickness:

Up to 10mm

One Touch Functions:

Yes, 36 Available

Job Memories:

Yes

Advertisements / Slogans:

Yes, 20 Available

Departmental Accounts:

Yes, 150 or 250 Available

PIN Security:

Yes

Smart Meter Technology:

Yes

Mailmark Technology:

Yes

Length of Machine:

1122mm

Depth of Machine:

626mm

Height of Machine:

222mm
View our range of franking machines here and receive an instant franking machine quote for a similar machine to the Frama Matrix F82.