Frama Matrix F82 Franking Machine Information
The Frama Matrix F82 franking machine is the highest volume model that is supplied by Frama. This machine is suited for large mail loads and any company that sends out up to 800 items of mail everyday. As a high volume model the Matrix F82 comes with a range of features and benefits that can aid any business, including the most up to date franking technologies.
Frama Matrix F82 Franking Machine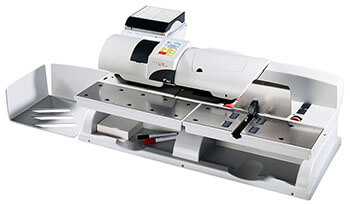 When using this machine to frank your mail businesses will be using a fully automatic feeder which can process mail at incredible speeds reaching 140 letters per minute. This can occur when this machine is in full operation and when franking mail items up to 10mm thick. By franking at these speeds businesses can easily send out up, but not limited to, 800 mail pieces per day.
The Matrix F82 franking machine also comes with an accounting feature that allows constant monitoring and tracking of mail items to occur. Use as many as 250 accounts with this machine and ensure that you are in complete control of your postage expenses. For more security this model possesses PIN code security, blocking any unauthorized personnel to use the machine.
Mailmark Compatibility
As announced by Frama during 2014, the Matrix F82 model is one franking machine that is Mailmark compliant. This machine, along with 5 other Matrix F models, was purposely designed for Mailmark, offering customers much lower franking prices and a new franking impression. Find out more about Mailmark here.
Matrix F82 Specifications
View the key specifications of the Frama Matrix F82 franking machine below.
Speed:

140 Letters per Minute

Feeding System:

Automatic

Weighing Scales:

5, or 30 Kg

Connectivity:

LAN

Max. Envelope thickness:

10mm

Adverts:

20

Departmental Accounts:

150 or 250 available

PIN Security:

Yes

Smart Meter Technology:

Yes

Mailmark Technology:

Yes
If you would like a franking machine similar to the Frama Matrix F82 then view our range of franking machines here.