Frama Matrix F62 Franking Machine Information
Designed for medium letter volumes, the Frama Matrix F62 franking machine is built to meet the requirements of a fairly busy mail room. Coming with simple operation functions, high quality ink jet franking and an integrated label dispenser are just some of its incredible franking machine features.
Frama Matrix F62 Franking Machine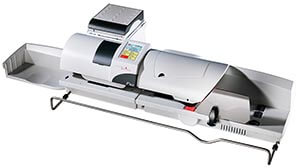 As a mid volume franking machine, the Frama Matrix F62 model is designed specifically for mail volumes up to 500 items per day, based on our experience with similar franking machines. It uses a fully automatic feeding system and label dispenser which can process items at speeds reaching 95 letters per minute.
Frank on any mail item up to 10mm thick via its feeder and onto any item over 10mm thick with its label dispenser. You can use the Matrix F62 as a free marketing tool and frank a logo, slogan or personalized message onto out going mail items. Improve your business image and expand your business name with this feature.
For easy operations there are 36 one touch functions that are used for franking and a colour display screen. Clearly see what you are franking and learn how to frank within minutes. Other features that can be used with the Frama Matrix F62 machine include: smart meter technology, an accounting feature and various job memories.
Mailmark Compatibility
The latest Mailmark franking technology can be used in the Matrix F62 model and it was specifically designed for this purpose. This franking machine, along with 5 other Matrix F models, were released for Mailmark technology. This means that users can benefit from franking a new 2D barcode and using lower prices to send mail items. Find out about Mailmark here.
Matrix F62 Specifications
View the key specifications of the Frama Matrix F62 franking machine below.
Speed:

95 Letters per Minute

Feeding System:

Automatic

Weighing Scales:

2, 5 or 30 Kg available

Connectivity:

LAN

Max. Envelope thickness:

10mm

One Touch Functions:

36

Advertisements:

8

Departmental Accounts:

100 available, 250 optional

PIN Security:

Yes

Smart Meter Technology:

Yes

Mailmark Technology:

Yes
If you would like a franking machine similar to the Frama Matrix F62 then view our range of franking machines here.