Frama Matrix F32 Franking Machine Information
For easy and clear methods of sending mail a large full colour display screen is readily available with the Frama Matrix F32 franking machine. Suitable for sending a wide range of letters and mail items, this machine is a well thought-out system. Designed for low to mid sized mail loads reaching but not limited to 200 items per day.
Frama Matrix F32 Franking Machine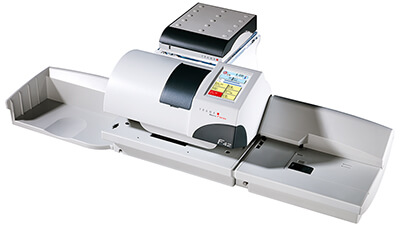 Use a semi automatic feeding system to frank any mail item up to 10mm thick with the Matrix F32 machine and frank at a top speed of 50 letters per minute. If you wish to send larger parcels and packets then franking labels can be used. To help eliminate the risk of miss paying for your mail an integrated weighing scale comes as standard with this model. Use either a 2, 5 or 20 Kg scale.
Use this franking machine as a free marketing tool to improve the overall look and impression of your mail. Various adverts or messages can be used on this machine to expand your business name. Attract customers before mail is open and see profits potentially rise. 600 dpi printing will be used with this machine for cleaner and clearer franking.
Mailmark Compatibility
Similar to the other Frama Matrix F franking machines the F32 model is Mailmark compliant. This machine was specifically designed for Mailmark and was one of the first models to become Mailmark ready. This enables users of this model to benefit from Royal Mail's Mailmark service. Benefit from many extras and benefits with Mailmark including lower franking prices and tracking of mail. Find out about Mailmark here.
Matrix F32 Specifications
View the key specifications of the Frama Matrix F32 franking machine below.
Speed:

50 Letters per Minute

Feeding System:

Semi Automatic

Weighing Scales:

2, 5 or 30 Kg available

Connectivity:

LAN

Max. Envelope thickness:

10mm

One Touch Functions:

30

Advertisements:

8

Departmental Accounts:

25 available, 100 optional

PIN Security:

Yes

Smart Meter Technology:

Yes

Mailmark Technology:

Yes
If you would like a franking machine similar to the Frama Matrix F32 then view our range of franking machines here.