Frama Matrix F22 Franking Machine Information
The Frama Matrix F22 franking machine is a lower volume franking machine that can be supplied by Frama. This model is perfectly designed for smaller mail loads not exceeding 100 items per day. Frank at a speed reaching 27 letters per minute and ensure that you mail is looking crisp and clean with smart blue franking ink.
Frama Matrix F22 Franking Machine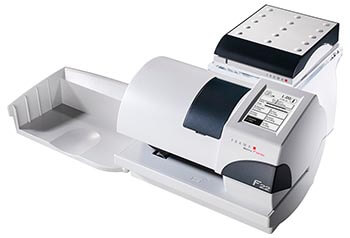 Unlike other Matrix models, this low volume franking machine can be used almost immediately with very little training actually required. Using top of the range OneTouch franking technology, the Frama Matrix F22 is incredibly easy to use and to add to the convenience of franking Frama can even update all postage rates automatically for you.
A pass through feeding system is used when franking mail items and this enables a top franking speed of 27 letters per minute to be reached. Frank onto all mail items that are 10mm thick with this feeder and use franking labels for any parcel or packet larger than 10mm. Other incredible franking machine features that are included with this machine include smart meter technology, various advertisements and an accounting feature.
Mailmark Compatibility
The Frama Matrix F22 model is Mailmark ready. As announced by Frama, this Matrix machine, along with 5 other models, is Mailmark compatible and capable of using the latest franking technologies. Frank a 2D barcode onto outgoing mail and reap the extra benefits and features that come with Mailmark technology. Find out about Mailmark here.
Matrix F22 Specifications
View the key specifications of the Frama Matrix F22 franking machine below.
Speed:

27 Letters per Minute

Feeding System:

Pass Through

Weighing Scales:

2, 5 or 30 Kg available

Connectivity:

LAN

Max. Envelope thickness:

10mm

One Touch Functions:

24

Advertisements:

6

Departmental Accounts:

10 available, 50 optional

PIN Security:

Yes

Smart Meter Technology:

Yes

Mailmark Technology:

Yes
If you would like a franking machine similar to the Frama Matrix F22 then view our range of franking machines here.