Frama Matrix F12 Franking Machine Information
The Frama Matrix F12 franking machine is a entry level franking machine supplied by Frama AG. This machine comes with some franking machine features but not as many that are found in larger volume franking machines. As specified by Frama, this postage machine is suitable for mail volumes up to 50 items of mail per day.
Frama Matrix F12 Franking Machine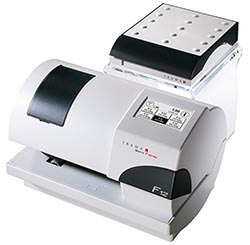 The Matrix F12 uses a manual feeder which can process any mail item that is 10mm thick or less. As well as this the latest smart meter technology comes integrated into this machine as standard. Use all Royal Mail services including VAT liable services with this incredible technology. Also frank in smart blue ink with smart meter technology to improve the look of your mail and the readability of the franked impression.
Businesses can use the Frama Matrix F12 franking machine as a money generating machine by franking personalized adverts and messages onto outgoing mail items. Store up to 8 different adverts on this machine and help expand your business name. An integrated choice of weighing scales are also available helping to eliminate the risk of miss paying for a mail item. Use either a 2 or 5 Kg scale with the matrix F12 model.
Mailmark Compatibility
The Frama Matrix F12 was released for Mailmark 2014 and this model was on of the first machines to be Mailmark complaint. This means that users can frank a new 2D barcode onto outgoing mail items and benefit from many Mailmark benefits. Use the lowest franking prices available and receive automatic Royal Mail price updates. Find out about Mailmark here.
Matrix F12 Specifications
View the key specifications of the Frama Matrix F12 franking machine below.
Speed:

50 Letters per Day

Feeding System:

Manual

Weighing Scales:

2 or 5 Kg available

Connectivity:

LAN

Max. Envelope thickness:

10mm

One Touch Buttons:

18

Advertisements:

8

Departmental Accounts:

9 or 25 available

PIN Security:

Yes

Smart Meter Technology:

Yes

Mailmark Technology:

Yes
If you would like a franking machine similar to the Frama Matrix F12 then view our range of franking machines here.