Neopost IS6000 Franking Machine Information
The IS6000 franking machine is a heavy duty model that is manufactured and supplied by Neopost. As a heavy duty machine it possesses many franking machine features and can frank at incredible rates. Frank as many as 260 letters per minute. Based on our experience we would recommend users to send over 1000 items of mail per day with this franking machine.
Neopost IS6000 Franking Machine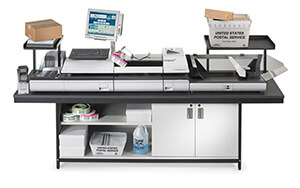 The Neopost IS6000 franking machine comes with a full colour, 15″ touch screen as standard to make the franking process easy to complete. Use this to access up to 15 job memories and 8 job advertisements to help improve the franking process. As a modern franking machine, the IS6000 can connect to a LAN line with ease, giving users access to fast download speeds and the ability to top up 24/7.
Eliminate the chance of over paying for a mail item by using an integrated weighing scale as standard with the IS6000. Benefit from using a 3, 5, 10 or 30 Kg scale and never miss pay for your mail. Accurate postage will always be applied. You can even monitor all postage expenses by using an integrated accounting feature with this machine. use up to 500 accounts and keep on top of your postage control.
Mailmark Compatibility
The IS6000 franking machine is a Mailmark compliant model that is capable of using the latest Mailmark service. This means that all businesses using this heavy duty model can benefit from franking a new 2D barcode on outgoing mail as well as using the lowest postage prices available. These are just two of the many extra benefits gained with Mailmark technology. Find out more about Mailmark here.
IS6000 Specifications
View the key specifications of the Neopost IS6000 franking machine below.
Speed:

260 Letters per Minute

Dynamic Weighing Speed:

140 Letters per Minute

Feeding System:

Fully Automatic

Label Dispenser:

Fully Automatic

Weighing Scales:

3, 5, 10 or 30 Kg

Connectivity:

LAN

Max. Envelope thickness:

20mm

Colour Touch Screen:

15″

Job Memories:

15

Adverts:

8

Departmental Accounts:

500

Dynamic Scale:

Optional

Differential Weighing:

Optional

Smart Meter Technology:

Yes

Mailmark Technology:

Yes
If you would like a franking machine similar to the Neopost IS6000 then view our range of franking machines here.