Neopost IS350c Franking Machine Information
The Neopost IS350c franking machine is one model that will always calculate the correct postage amount and it will make the entire franking process much simpler. Use a 3 or 5 Kg weighing scale to eliminate any risk of miss paying for a mail item and use smart meter technology to your advantage to reclaim any VAT on Royal Mail VAT services.
Neopost IS350c Franking Machine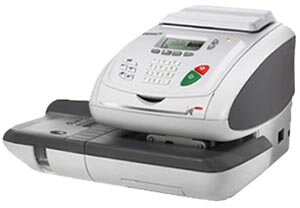 The Neopost IS350c postage machine comes with a range of franking machine features and these will all give businesses immediate access to many benefits. An accounting feature comes as standard so that you can keep in control of your postage expenses. Use up to 100 separate accounts to designate different departments certain postage expenses.
A pass through feeding system is used during the franking process and this enables a top franking speed of 40 letters per minute to be reached with ease. Frank onto any mail item that is 9mm thick and use franking labels for nay larger mail items. For ease of use there are many one touch functions that will aid the franking process and up to 9 job memories can be used for common jobs.
View our range of Neopost IS350c franking machine supplies here.
Mailmark Compatibility
Th latest Mailmark franking technology is supported by the Neopost IS350c franking machine and this will allows users of this model to benefit from lower franking prices, tracking of mail items and receiving automatic postage updates. Mailmark will produce a new 2D barcode onto outgoing mail and this will give businesses access to many extras. Find out more about Mailmark here.
IS350c Specifications
View the key specifications of the Neopost IS350c Franking Machine franking machine below.
Speed:

40 Letters per Minute

Feeding System:

Pass Through

Weighing Scales:

3 or 5 Kg available

Connectivity:

LAN

Max. Envelope thickness:

9mm

Job Memories:

9

Advertisements:

8

Departmental Accounts:

10 standard, 100 optional

PIN Security:

Yes

Smart Meter Technology:

Yes

Mailmark Technology:

Yes
If you would like a franking machine similar to the Neopost IS350c Franking Machine then view our range of franking machines here.