IS-420 Postal Franking Machine
Monitor, track and be in complete control of your postage expenses with the IS-420 postal franking machine. Up to 100 accounts can be monitored and this number can be upgraded to have 250 departmental accounts. PIN code protection can be used to protect the usage of the machine and default rate settings will eliminate miss posting.
IS-420 Postal Franking Machine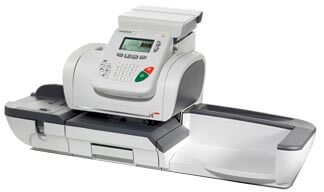 The IS-420 postal franking machine comes with an integrated weighing scale as standard and this can be used to accurately pay for all mail items. A range of scales are available to choose, including a 2 and 30 Kg scale. Not only this but this franking machine is easy to use, coming with simple navigation and job set up.
This low to mid volume franking machine is ideal for sending 300 items per day and it comes with a top franking speed of 65 letters per minute. This amount is based on our experience with a similar machine. These speeds are made possible thanks to an automatic feeder which can frank onto mail items up to 12mm thick.
As well as this, the latest franking technologies can be used. Both smart meter and Mailmark are supported with the Neopost IS-420 postal franking machine, allowing more businesses to benefit from franking. The latest generation of franking can offer even lower postal tariffs, access to VAT services and a new 2D barcode.
Click here to view a range of IS-420 franking machine supplies.
IS-420 Key Details
View the key details and features that the IS-420 postal franking machine possesses here.
Speed:

65 LPM

Feeding System:

Automatic

Weighing Platforms:

Yes, 3, 5, 10 or 30 Kg Available

Connectivity:

LAN

Maximum Envelope Thickness:

Up to 12mm

Job Memories:

Yes, 9 Available

Advertisements / Slogans:

Yes, 10 Available

Departmental Accounts:

Yes, 25 or 100 Available

PIN Security:

Yes

Smart Meter Technology:

Yes

Mailmark Technology:

Yes

Length of Machine:

748mm

Depth of Machine:

375mm

Height of Machine:

298mm
View our range of franking machines here and receive an instant franking machine quote for a similar machine to the Neopost IS-420.