IS-350c Postal Franking Machine
A growing business requires productivity tools that can help keep the office running smoothly with little interruption. The Neopost IS-350c postal franking machine can fit smoothly into any office environment. Coming with easy functions and whisper quiet operations, the IS-350c was designed to integrate into various environments.
IS-350c Postal Franking Machine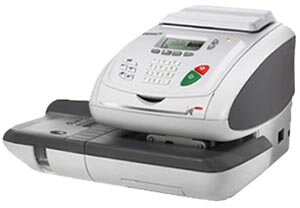 State of the art franking technologies are a standard feature with the Neopost IS-350c postal franking machine. Both Smart meter and Mailmark can be accessed and used. Smart Meter gives users unlimited access to all VAT services and Mailmark gives users access to a new way of franking and much lower franking prices.
This professional system also makes it simple to weigh, frank and send all mail items accurately and on time. An integrated 3 Kg scale and the latest postal rates are always available to ensure this. Mail can be processed at a much faster speed of 40 letters per minute, and this is far quicker than any employee.
Businesses will be able to expand their name with a franking machine and the IS-350c possesses this beneficial feature. Up to 10 graphics can be stored on the machine and applied to a range of envelopes and mail items. Not only this but common jobs can be stored for simple access, making the entire process much faster than before.
Click here to view a range of IS-350c franking machine supplies.
IS-350c Key Details
View the key details and features that the IS-350c postal franking machine possesses here.
Speed:

40 LPM

Feeding System:

Pass Through

Weighing Platforms:

Yes, 3 Kg Available

Connectivity:

LAN

Maximum Envelope Thickness:

Up to 9mm

Job Memories:

Yes, 9 Available

Advertisements / Slogans:

Yes, 10 Available

Departmental Accounts:

Yes, 10 or 100 Available

PIN Security:

Yes

Smart Meter Technology:

Yes

Mailmark Technology:

Yes

Length of Machine:

357mm

Depth of Machine:

375mm

Height of Machine:

260mm
View our range of franking machines here and receive an instant franking machine quote for a similar machine to the Neopost IS-350c.