Frama Matrix F82 Mailmark Franking Machine
36 OneTouch functions are available at the dispense of the user when franking mail with the Matrix F82 Mailmark franking machine. This unique feature enables easier usage of the franking machine as various jobs can be stored for quick and easy access. Bar charts and real life ink levels are also available, all from the machines touch screen.
Frama Matrix F82 Mailmark Franking Machine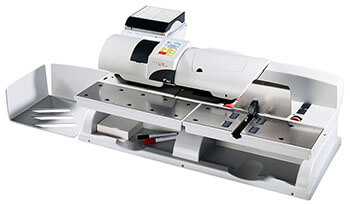 Faster franking speeds of 140 letters per minute can be reached via the automatic feeding system that is integrated into the machine. This means that the Frama Matrix F82 Mailmark franking machine is suitable for much larger volumes of mail per day, volumes reaching 800 items per day based on our experience.
Accurately weighing and applying the correct postage is made easier than ever with the Matrix F82. Eliminate the worry of miss paying for mail by using an integrated weighing scale. As well as this, connection to a LAN is made possible. This means postage rate changes and software updates can occur much faster and more conveniently.
Click here to view a range of Frama Matrix F82 franking machine supplies.
Mailmark Technology
The Frama Matrix F82 was one of the first franking machines to be capable of using the latest Mailmark technology, and as such brings with it many useful benefits and features. This new initiative, released by the Royal Mail, allows businesses to benefit further from franking by using lower postal tariffs and mail tracking. Find out more about Mailmark technology here.
Further Details for the Frama Matrix F82
View the latest details and up to date features that the Frama Matrix F82 Mailmark franking machine possesses below.
Franking Speed:

140 letters per minute

Envelope Feeding System:

Automatic

Scale Options:

2, 5 or 30 Kg

Connectivity Options:

LAN

Maximum Envelope Thickness:

10mm

One Touch Functions:

Yes, 36

Job Memories:

Yes

Advertisements / Slogans:

Yes, 20

Departmental Accounts:

Yes, 150 or 250

PIN Security:

Yes

Smart Meter Technology:

Yes

Mailmark Technology:

Yes

Length Dimension:

1122mm

Depth Dimension:

626mm

Height Dimension:

222mm
View our range of franking machines here and receive an instant franking machine quote for a similar machine to the Frama Matrix F82.