Frama Matrix F22 Franking Machine Overview
The Frama Matrix F22 Franking Machine is a Mailmark complaint franking machine manufactured by Frama. Released during 2014, this franking machine is a low volume franker suited for businesses sending out up to 50 items of mail per day. This is only a recommendation as this model is flexible enough to frank more than this amount.
Frama Matrix F22 Franking Machine Features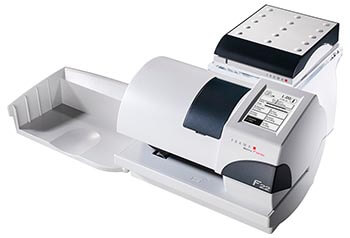 This low volume franking machine brings with it loads of franking machine features. All features are comes with this machine as standard and gives you access to many franking machine benefits. The features included range from the latest technologies to a separate weighing scale. Find out more about the Frama Matrix F22 franking machine features below.
Mailmark Technology
This machine, similar to five other Matrix F machines, was released for Mailmark 2014. It was one of the first Mailmark complaint models available and so it gives user access to all the Mailmark benefits including lower franking prices, tracking of mail, using a LAN connection and franking a 2D barcode impression. By using Mailmark users can make even more savings when franking.
Feeding System
A second feature that comes with the Frama Matrix F22 franking machine is a pass through feeding system. This feeder allows a top franking speed of 27 letters per minute to be reached and a recommended daily amount of 50 items per day. This feeder is flexible enough to frank more on a daily basis if required. Also frank onto any mail item up to 10mm thick. Any thicker items can still be franked via the use of franking labels allowing you to benefit from all franking prices.
Departmental Accounts
Use departmental accounts with this low volume machine to help monitor and keep on top of your postage expenditure. You can use up to 10 departmental accounts as standard or upgrade this to 50. Also be aware that you can PIN code protect all these accounts so that your machine is kept safe and secure.
Smart Meter Technology
As well as being Mailmark complaint the Frama Matrix F22 franking machine is also smart meter enabled. This means that users will be able to benefit from using all of Royal Mail's VAT services and products. Once you have used the VAT service, you can regain the VAT via an automated invoice from Royal Mail. Smart meter technology will also ensure the Matrix F22 franks in smart blue instead of the traditional red.
Weighing Platforms
This franking machine also comes with a weighing platform for weighing your mail items. This is a 2.5 Kg detachable scale connected to the back of the machine. It will accurately price your mail every time being very convenient. Never estimate and miss pay for a mail item again with this feature.
If you are interested in buying a franking machine similar to the Frama Matrix F22 then view our range of franking machines here.