Frama Matrix F12 Franking Machine Overview
The Frama Matrix F12 franking machine is an entry level franking machine released during 2014 by Frama. This machine was purposely released to help businesses use the brand new Mailmark service released by Royal Mail. As an entry level machine it is perfectly suited for any business sending up to 50 items of mail per day.
Frama Matrix F12 Franking Machine Features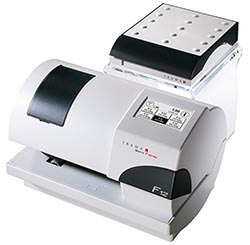 This might be an entry level model but the Frama Matrix F12 franking machine does come with many franking machine features. The features that comes with this machine range from the most up to date technologies to a weighing scale. All of its features can help benefit the franking process and some of its main franking machine features are described below.
Feeding System
One feature that comes with the Frama Matrix F12 franking machine is a manual feeder as standard. This feeder allows businesses to frank at slower speeds to suit a business sending out an average amount of 50 mail items per day. This feeding system can frank onto any mail item that is 10mm thick or less. Larger parcels can also be franked by using franking labels.
Mailmark Technology
This franking machine was released for Mailmark 2014 and so comes with Mailmark technology as standard. This feature allows businesses to benefit from using the new 2D Mailmark barcode when franking. This is very beneficial technology as businesses can gain access to lower franking prices, connect to a LAN connection and track mail items.
LAN Connectivity
As this machine is Mailmark compliant you can benefit from using a LAN connection with this franking machine. Connect to a super fast internet connection and receive faster download speeds. LAN connectivity allows businesses to receive instant internet connection and quick speeds when re-crediting. This method is much more beneficial to use as it has improved reliability.
Smart Meter Technology
One final franking machine feature that is present in the Frama Matrix F12 franking machine is smart meter technology. By using smart meter technology you can frank mail in blue ink to help improve your frank's readability. Also use all of Royal Mail's VAT services and products when franking. This enables businesses to regain any paid VAT from HMRC being very beneficial.
View our range of franking machines here and get a franking machine quote for a similar machine to the Frama Matrix F12.