FP Mailing Qi 2000 Postage Machine Guide
The FP Mailing Qi 2000 postage machine is one of three franking machines supplied by FP Mailing that is built for heavy duty mail loads. This machine is built for larger productivity and designed for large businesses wishing to save money whilst incorporating the new Mailmark technology.
FP Mailing Qi 2000 Postage Machine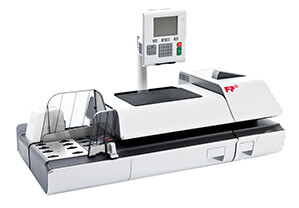 This machine incorporates are fully automatic feeding system for incredible franking speeds. Reach a speed up to 260 letters per minute or 140 letters per minute, depending on the settings used. The FP Mailing QI 2000 postage machine also comes with an internal weighing scale that will enable accurate postage on all mail items. Never miss pay for a mail item again.
For ease of use the Qi 2000 model comes with a touch screen that uses one touch buttons and functions to make the franking process quicker and easier to complete. Anyone can use this franking machine being more flexible for businesses with many staff members. Access job memories and advertisements from this touch screen to improve the look of mail.
Also take advantage of the latest Mailmark technology and use the lowest franking prices that are available. Benefit from further discounts on every mail item and frank a new 2D barcode. Mailmark also enables your analogue line to be dropped for good. This allows a secure LAN connection to be used for faster download and update speeds. Businesses will also be able to re-credit the Qi 2000 when they want.
FP Mailing Qi 2000 Features
Find out what postage machine features are included with the FP Mailing Qi 2000 franking machine below.
Speed:

260 LPM

Alternative Speed:

140 LPM

Feeding System:

Automatic

Weighing Scales:

3, 5, 10 or 30 Kg available

Connectivity:

LAN

Max. Envelope thickness:

20mm

Job Memories:

Yes, 15

Advertisements:

Yes, 9

Departmental Accounts:

Yes

PIN Security:

Yes

Smart Meter Technology:

Yes

Mailmark Technology:

Yes

Barcode Scanner:

Optional

Dynamic Scale:

Optional
FP Mailing Qi 2000 Dimensions
Find out the dimensions of the FP Mailing Qi 2000 postage machine below.
Length of Qi 2000:

150cm

Depth of Qi 2000:

64cm

Height of Qi 2000:

36cm
Find out more about the FP Mailing Qi 2000 franking machine here.
View our range of franking machines here and receive instant postage machine quotes for a similar machine to the FP Mailing Qi 2000.