FP Mailing Postbase Qi4 Mailmark Franking Machine – Guide By Mailcoms
FP Mailing Postbase Qi4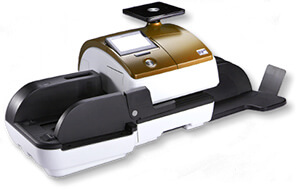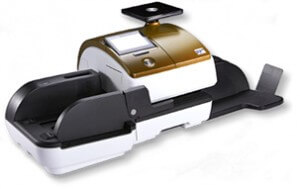 Low to Mid Volume Franking Machine (Speed of up to 45 Franks per minute)
The FP Mailing Postbase Qi4 franking machine is a brand new, low to mid volume, Mailmark franking machine released by FP Mailing. Mailmark is a brand new service, provided by Royal Mail, for franking machines. This service will enable your business to receive even more franking advantages, such as lower franking prices. To gain access to Mailmark, you will require a Mailmark franking machine, and the FP Mailing Posbase Qi4 is one of the many Mailmark franking machines on the market today.
As well as being Mailmark compliant, the FP Mailing Postbase Qi4 has many great features. For example it has a 4.7 inch colour touch screen that will aid anyone wanting to frank mail. The touch screen works easily by touching one button at a time, allowing for easy usage. Not only this but this machine also has an automatic feeder, allowing all mail to be franked quickly and easily by all members of staff.
However, as reliable and useful as the FP Mailing Postbase Qi4 Mailmark Franking Machine is, at Mailcoms, we can offer you a wide range of Mailmark franking machines at much lower prices. This will allow your business to save money on a Mailmark franking machine.
Get a low cost Mailmark Franking Machine Quote for a similar machine here, and see how much you can save.
Get a low cost Franking Machine Quote for a similar machine here.
FP Mailing Postbase Qi4 Specifications
Speed: 45 letters per minute
Feeder: Automatic
Scale: There is a 3KG scale
Max. envelope thickness: Up To 10mm
Connection: LAN Connection
Differential Weighing Option: Yes
External Scale Option: Yes
Label Dispenser: Yes
Advertising Slogans: Up to 10
Cost Accounts: 10 Available
Mailmark: Yes
Colour Range: Black, Blue, Red, Gold, Silver
Why Not Share This On Social Media?