FP Mailing Mymail Franking Machine Overview
The FP Mailing Mymail franking machine is one of FP Mailing's entry level machines suited for any business sending out up to 30 letters per day based on our experience with a similar machine. If you wish to begin franking or only send out 30 letters per day on average, then the Mymail will be perfect for you.
FP Mailing Mymail Franking Machine Features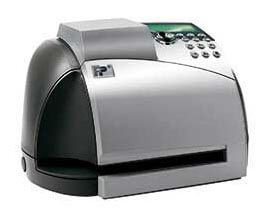 The FP Mailing Mymail franking machine has a wide range of franking machine features that can benefit your business. This ranges from the most up to date franking technologies to a free advertising feature. Some of the Mymail's main features that come with this machine are described below.
Feeding System
The FP Mailing Mymail franking machine comes with a manual feeder system. This means that a top franking speed of 20 letters per minute can be reached. This manual feeder can frank onto mail items as thick as 6mm. Any larger mail items that you wish to frank can be franked via compatible franking labels. This enables you to benefit from using all franking prices.
Connectivity
Like most modern franking machines, the FP Mailing Mymail can use a secure and much faster LAN connection. This means that faster download speeds and software updates will occur. An analogue line can be used if preferred but LAN connectivity is much more reliable than an analogue line. For example if you disconnect from the internet with an analogue line the download will stop, a LAN line however will continue the download.
Accounting Feature
An accounting feature is also included with the Mymail franking machine. This helps any business keep on top of their postage expenditure. Use up to 3 departmental accounts that can be PIN code protected. For better safety a chip card is integrated in this entry level machine so that only authorised users can access and use this machine. These features help you to keep on top of your postage expenses.
Advertising Feature
Another feature with the FP Mailing Mymail franking machine is a free advertising feature. This allows business to personalise outgoing mail to help attract customers and expand their business name. Use up to 3 preset designs and use this machine as a free marketing tool. Also frank text or slogans onto your mail and help give your mail a more professional image.
Mailmark Technology
A final feature that comes with the FP Mailing Mymail franking machine is Mailmark technology. The Mymail is a Mailmark ready franking machine meaning that you get the option to use Mailmark if you wish. The new Mailmark initiative allows you to frank a all new 2D barcode on your mail. This gives you access to Mailmark benefits such as lower franking prices, tracking of mail and automatic postal tariff updates.
If you would like to purchase some franking ink for this machine, then view our range of FP Mailing Mymail Franking Ink & Labels here.
If you are interested in a franking machine similar to the FP Mailing Mymail then view our range of franking machines here.