FP Mailing FPi 2000 Folding Inserting Machine – Guide By Mailcoms
FP Mailing FPi 2000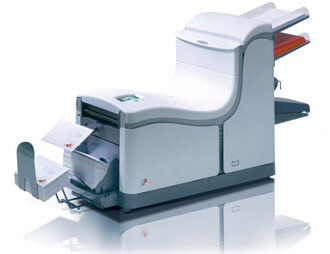 Low Volume Folding Inserting Machine (speed of up to 2,200 letters per hour)
The FP Mailing FPi 2000 folding inserting machine is one of the many low volume machines manufactured by FP Mailing, also known as Francotyp Postalia. With speeds reaching 2,200 letters per hour, this machine is perfectly suited for any small business just starting to use a folding inserting machine. The FPi 2000 is perfectly sized to fit into any office environment.
This table top FP Mailing FPi 2000 machine will win any business over with its ease of use and easy operation. Learn how to use this machine in minutes and fold various document sizes to fit into a standard C6, C6/5 and C5 envelope. This machine also functions quietly, meaning that it will not disrupt the business office.
Not only does this folding inserting machine come with these great features, but the FP Mailing FPi 2000 can fold mail in several ways, including C Fold, Z Fold and Double-Parallel Fold. This means that you can fold mail in the most professional way possible to suit the needs of any business.
If your business would like to save money on a folding inserting machine, then receive a low cost Folding Inserting Machine Quote here for a similar machine and see how much you can save when buying from Mailcoms.
View our range of FP Mailing Folding Inserting Machine Envelopes here.
FP Mailing FPi 2000 Specifications
Speed: 2,200 letters per hour
Fold types: Single Fold, C Fold, Z Fold, Double-Parallel Fold
Envelope Feeder Capacity: 150
Document Feeder Capacity: 325 sheets per station
Supplement Feed Capacity: 325 single sheet supplements
Programmable Memory: 9 Job
Multiple Document Feed: Yes
Feeder Stations: Yes, 1 or 2
Automatic Feeder Stations: Yes, 2 or 3
Dimensions: Width: 420mm, Height: 520mm, Length: 1200mm
Dimensions: Weight: 75 Kg