FP Mailing Centormail Postage Franking Machine
FP Mailing, a UK franking machine supplier, can currently offer businesses a range of franking machines. One such model that is currently available is their Centormail postage franking machine, a high volume model that can process up to 150 letters every minute and is perfectly designed for 700 items per day, based on our experiences.
FP Mailing Centormail Postage Franking Machine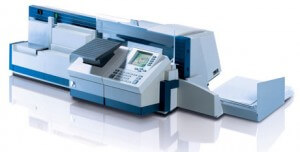 A professional company image will be produced on all your mail due to the Centormail's inkjet printing abilities. A clean frank will always be produced. Massive Royal Mail discounts are available using Mailmark printing and these rates are always updated on the FP Mailing Centormail postage franking machine.
Top franking speeds are made possible with the Centormail franking machine thanks to its automatic feeder. This feeder is unique as it processes mail vertically, not horizontally which often puts people off the machine. Process any mail item 20mm thick or less and always achieve ideal franking speeds for the mailing job.
A clear display screen shows the user exactly what is being franked and how it is being franked. From here users can set up jobs with more ease. Access job memories and advertisements within a few clicks. As well as this the user can ensure they always pay the correct postage by accurately weighing each mail item.
Click here to view a range of Centormail franking machine supplies.
Further Information
View even more information about the FP Mailing Centormail Postage Franking Machine below.
Top Franking Speed:

150 letters per minute

Feeder Used:

Fully Automatic

Weighing Scales:

Yes, 5 Kg

Connection Type(s):

LAN

Max. Envelope Thickness:

20mm

Job Imprint Memories:

Yes, 20

Advertisements:

Yes, 15

Departmental Accounts:

Yes, 300

PIN Security:

Yes

Smart Meter Enabled:

Yes

Mailmark Compliant:

Yes

Dimensions:

L: 1165mm, D: 540mm, H: 340mm
View our latest range of franking machines here and receive instant franking machine quotes for a similar model to the FP Mailing Centormail Postage Franking Machine.