FP Mailing Centormail Franking Machine Overview
The FP Mailing Centormail franking machine is a high volume franking machine supplied by FP Mailing. This model franking machine can frank at incredible speeds and this enables businesses using this model to send up to 800 items of mail per day. based on our experience with a similar model we would recommend up to 800 items per day to be franked to truly get the most out of the Centormail machine.
FP Mailing Centormail Franking Machine Features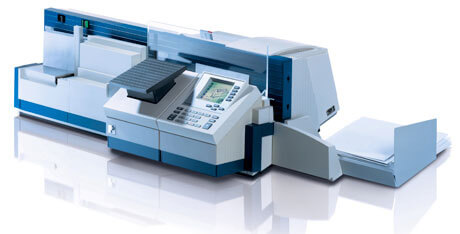 Like all franking machines, the FP Mailing Centormail franking machine comes with a wide range of franking machine features. This features range from it's different style feeding system to the latest franking technology. Some of the Centormail's main franking features are described below.
Feeding System
One standard feature the FP Mailing Centormail franking machine possesses is a feeding system. This feeder can frank onto any mail item up to 20mm thick and at an incredible speed reaching 150 letters per minute. At this speed many items of mail can be franked daily. This feeding system also franks mail vertically which is slightly different to the normal way to frank.
Advertising Feature
Gain access to 15 different advertisements. This allows graphics and slogans to be franked on all outgoing mail, helping to attract customers attention and increase brand awareness. Create personalised mail and use the Centormail to frank this. This can aid any business as it expands your business name whist improving your professional image.
PIN Security
Use PIN code security on the FP Mailing Centormail franking machine to keep it safe and secure from unauthorised personnel. If you use the 300 departmental accounts on the Centormail then these can also be PIN code protected so that you are in full control of your postage expenditure. Limit the amount of postage that can be spent and help monitor your franking machines usage more closely.
Integrated Weighing Scales
Use the Centormail's integrated weighing scale to your advantage and never again miss pay for your outgoing mail. By using its 5 Kg weighing scale businesses can ensure that over payment does not occur on this machine. Accurately weigh your mail items every time with the Centormail's weighing scale.
Mailmark Technology
One final feature the FP Mailing Centormail franking machine brings with it is the ability to use the latest Mailmark technology. By being Mailmark ready businesses can access lower franking prices and use a new 2D barcode when franking giving you access to many franking machine benefits. Tracking of mail can also be used so you can ensure mail items are not lost or behind delivery time.
View our range of franking machines here and get a franking machine quote for a similar machine today.