Pitney Bowes DM50 Franking Machine Information
The Pitney Bowes DM50 franking machine is a small office based machine that is designed for low volumes of mail and businesses that send out no more than 30 items of mail every day. If you need to switch from stamping to franking the DM50 model is one quick and easy solution to do so.
Pitney Bowes DM50 Franking Machine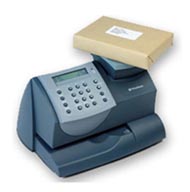 Access all of the most recent Royal Mail franking discounts 24/7 with this entry level franking machine. This will mean no more time consuming trips to the local Post Office will be needed as you can frank in the comfort of your own office.
The Pitney Bowes DM50 franking machine possesses a wide range of incredible franking machine features, all of which can benefit your business. Use smart meter technology to frank mail items in improved blue ink and to access all Royal Mail VAT services. As well as this a manual feeder is used when franking and this enables a top speed of 30 letters per day to be reached.
View our range of Pitney Bowes DM50 franking machine supplies here.
Mailmark Compatibility
Unfortunately, as of yet, the Pitney Bowes DM50 franking machine is not Mailmark compliant. This means that users of the DM50 will need to use an alternative franking machine if they wish to benefits from even lower franking prices and automatic tariff updates. Mailcoms can offer you a range of Mailmark compliant franking machines. Find out about Mailmark here.
DM50 Specifications
View the key specifications of the Pitney Bowes DM50 franking machine below.
Speed:

30 Letters per Day

Feeding System:

Manual

Weighing Scales:

2.5 Kg available

Connectivity:

LAN

Max. Envelope thickness:

8mm

Job Memories:

None

Advertisements:

5

Departmental Accounts:

Yes

PIN Security:

Yes

Smart Meter Technology:

Yes

Mailmark Technology:

No
If you would like a franking machine similar to the Pitney Bowes DM50 then view our range of franking machines here.