Pitney Bowes DM110i Franking Machine Information
The Pitney Bowes DM110i franking machine is a low volume model that is supplied by the world's largest franking machine manufacturers Pitney Bowes. As a low volume machine it is suited for businesses that send out up to 100 items of mail everyday. The DM110i smart franking machine can offer a wide range of cost and time saving features.
Pitney Bowes DM110i Franking Machine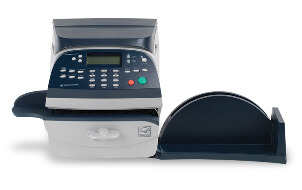 The Pitney Bowes DM110i franking machine is a smart meter enabled model that allows users to frank in smart blue franking ink as well as giving businesses access to all Royal Mail services, including services liable to VAT. A pass through feeder is used to process mail and this enables a top franking speed of 25 letters per minute to be reached.
By using its integrated choice of weighing scales businesses can ensure that they never over or under pay for a mail item again. A 2.5, 7, 12 and 35 Kg scale are the options available. 5 job memories are also available via the DM110i's menu. Store job memories for commonly used jobs for quick and easy access.
Mailmark Compatibility
The Pitney Bowes DM110i is Mailmark ready allowing users to benefit from the lowest postage tariffs and a new 2D barcode franking impression. By using this new technology businesses can gain access to a range of exclusive benefits which include: connection to a LAN line, tracking of mail and automatic postage rate updates. Find out more about Mailmark here.
DM110i Specifications
View the key specifications of the Pitney Bowes DM110i franking machine below.
Speed:

25 Letters per Minute

Feeding System:

Pass Through

Weighing Scales:

2.5, 7, 12 or 35 Kg

Connectivity:

LAN

Max. Envelope thickness:

9.5mm

Job Memories:

5

Departmental Accounts:

10, 100 available

Advertisements:

Yes

Differential Weighing:

No

PIN Security:

Yes

Smart Meter Technology:

Yes

Mailmark Technology:

Yes
If you would like a franking machine similar to the Pitney Bowes DM110i then view our range of franking machines here.