DM110i Digital Mailing System
The DM110i digital mailing system is a low volume franking machine supplied by Pitney Bowes, the world's largest manufacturers of franking machines. Based on our experience with the franking machine, the DM110i is ideal for sending up to 100 items of mail per day. This however is not a limit as more or less can be processed if required.
Pitney Bowes DM110i Digital Mailing System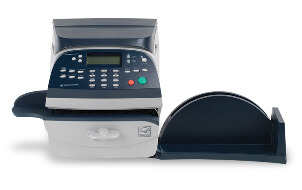 As a low volume franker, the Pitney Bowes DM110i digital mailing system can frank mail at a speed of 25 letters per minute. This can be achieved on envelopes up to 8mm thick or less, with franking labels being used for any larger mail pieces. This will allow you to benefit from all franking discounts.
The latest franking technologies are standard features within the Pitney Bowes DM110i franking machine. Mailmark, which gives lower postage discounts and access to using LAN connectivity, and smart meter, which gives you access to all VAT applicable services, can be used and benefited from with this low volume franking machine.
Up to five job memories can be stored with the DM110i digital mailing system for commonly used jobs. With one touch buttons also at your dispense setting up a job can be easy. Tracking and reporting of postage expenses is also made easy with up to 10 accounts available.
Click here to view our range of Pitney Bowes DM110i franking ink.
Click here to view our range of Pitney Bowes DM110i franking labels.
More Information & Specifications
Find out even more about the Pitney Bowes DM110i digital mailing system via its key details and specifications below.
Franking Speed:

25 per minute

Feeding System:

Pass Through

Max. Envelope Thickness:

8mm

Integrated Weighing Scales:

Yes, 2.5, 7, 12 or 35 Kg Options

Job Memories:

Yes, up to 5 available

Advertisements:

Yes

Departmental Accounts:

Yes, 10 available

Smart Meter Technology:

Yes

Mailmark Technology:

Yes

PIN Security:

Yes

Machine Length:

345mm

Machine Depth:

400mm

Machine Height:

230mm
Interested in the Pitney Bowes DM110i? View our range of franking machines here and receive a franking machine quote for a similar model.