Discover Mailmark Franking
Mailmark franking has changed the look of franked mail since its introduction during 2014. The impression produced (see diagram below) now includes a barcode, with the traditional 'town and crown' being replaced. This barcode is the icon that Mailmark is recognised as and it brings many benefits to any Mailmark franking machine user.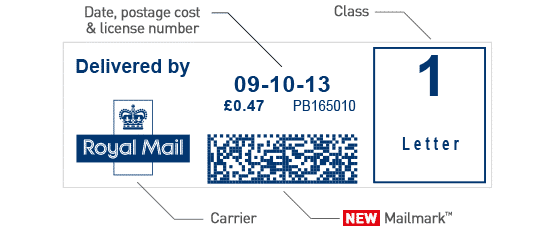 Mailmark Technology
Mailmark is increasingly becoming more cost effective, with a Mailmark franking machine providing even greater savings on postage in comparison to a non-Mailmark franking machine. However, we are surprised to learn, that many UK businesses continue to use older and not as beneficial franking machine models. This means some businesses, possibly even yours, are paying more for postage.
The Mailmark franking technology is now available in almost all franking machine models available on the market. You may be asking yourself "Should I Become Mailmark Compliant?" and the answer, we believe, should be Yes! A Mailmark compliant franking machine can prove beneficial to any business of any size and there are many benefits to using Mailmark technology
Mailmark is quick and easy to setup, the postage available is much cheaper and the new 2D printed barcodes can be scanned faster and easier, resulting in faster delivery of mail items. As well as this your mail items will start looking more professional with a Mailmark impression. These are just some of the benefits that will become available to you if you make the switch to a Mailmark franking machine.
The Savings
If you are still unsure whether to make the switch then simply take a look at the savings that can be made via our table below or download our Royal Mail PDF price list here: https://www.mailcoms.co.uk/royal-mail-postage-prices-2017/royal-mail-postage-rates-2017-franking-stamps.pdf
1st Class
Size
Weight up to and including
Stamps / Online
Franking Prices
Mailmark™ Prices
Letter
100g
65p
57p
55p
Large Letter
100g
98p
90p
85p
250g
£1.30
£1.24
£1.19
500g
£1.74
£1.64
£1.58
750g
£2.52
£2.30
£2.23
Small Parcel
1kg
£3.40
£3.12
£3.12
2kg
£5.50
£5.22
£5.22
Medium Parcel
1kg
£5.70
£4.87
£4.87
2kg
£8.95
£7.57
£7.57
5kg
£15.85
£15.85
£15.85
10kg
£21.90
£21.90
£21.90
20kg
£33.40
£33.40
£33.40
2nd Class
Size
Weight up to and including
Stamps / Online
Franking Prices
Mailmark™ Prices
Letter
100g
56p
41p
38p
Large Letter
100g
76p
68p
65p
250g
£1.22
96p
91p
500g
£1.58
£1.26
£1.22
750g
£2.14
£1.76
£1.72
Small Parcel
1kg
£2.90
£2.62
£2.62
2kg
£2.90
£2.62
£2.62
Medium Parcel
1kg
£5.00
£4.52
£4.52
2kg
£5.00
£4.52
£4.52
5kg
£13.75
£13.75
£13.75
10kg
£20.25
£20.25
£20.25
20kg
£28.55
£28.55
£28.55
If you have not yet become Mailmark compliant then we must ask why not? The benefits of using the latest technology are endless as you can see.
If you are interested in getting a Mailmark franking machine or upgrading to a Mailmark franking machine then please view our franking machine page here or call us today on 01543 572 776 and talk to a member of our team.
We are a Royal Mail Authorised Independent Inspector & Maintainer of Franking Machines with over 20,000 customers nationwide and we can supply you with our very own range of models.