FP Mailing Centormail Franking Machine Information
The FP Mailing Centormail franking machine is designed for greater productivity and comes with a massive range of franking machine features to aid the franking process. It is a higher volume franking machine suited to process mail loads as large as 800 mail items per day. This is based on our experience with a similar model franking machine.
FP Mailing Centormail Franking Machine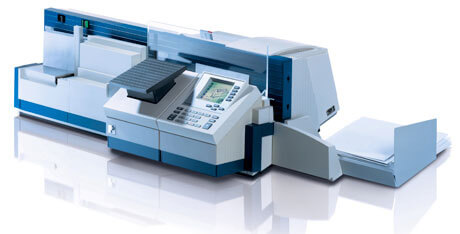 A fully automatic feeding system is used to frank mail items and a top speed of 150 letters can be processed every minute. The feeding system used in the FP Mailing Centormail is slightly different to most franking machines as items are processed vertically instead of horizontally. Despite this, mail items as thick as 20mm can be easily franked and compatible franking labels are available for any mail item thicker.
An integrated 5 Kg weighing scale is available in this model meaning that businesses can eliminate the possibility of over paying for a mail item. Accurate postage will always be applied by using its 5 Kg scale to your advantage. As well as this up to 20 job memories can be stored onto this machine. For quick and easy access users can store commonly used jobs onto the Centormail.
Mailmark Compatibility
Recently FP Mailing have stated that their Centormail model is Mailmark ready. This means that businesses can now frank a 2D barcode franking impression and access the lowest possible postage rates on this franking machine. Mailmark is more beneficial for businesses sending large mail volumes and so this high volume machine is perfectly designed for Mailmark. Find out about Mailmark here.
Centormail Specifications
View the key specifications of the FP Mailing Centormail franking machine below.
Speed:

150 Letters per Minute

Feeding System:

Automatic

Weighing Scales:

5 Kg available

Connectivity:

LAN

Max. Envelope thickness:

20mm

Job Memories:

20

Advertisements:

15

Departmental Accounts:

300 available

PIN Security:

Yes

Smart Meter Technology:

Yes

Mailmark Technology:

Yes
If you would like a franking machine similar to the FP Mailing Centormail then view our range of franking machines here.