About the Pitney Bowes DM60 Digital Franking Machine
The Pitney Bowes DM60 digital franking machine is an entry level franking machine that is perfectly designed for small offices or businesses that send minor volumes of mail on a daily basis. The DM60 franking machine is supplied by Pitney Bowes and possesses the latest Mailmark and Smart Meter technologies as standard.
Impressive Features with the Pitney Bowes DM60 Digital Franking Machine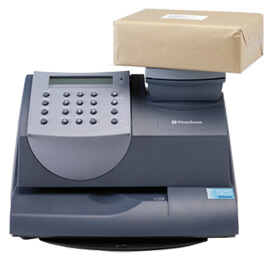 A range of impressive franking machine features are available with the Pitney Bowes DM60 digital franking machine and they can help benefit any user. Various buttons are integrated into the machines front interface and this makes franking mail much easier. A clear display screen will help guide anyone through the franking process.
From the machines interface users can access job memories, advertisements and departmental account features. Job memories will store commonly used jobs such as a second class letter, adverts can be used to frank a personalised message or logo and departmental accounts allows for better postage monitoring.
When franking with the Pitney Bowes DM60 digital franking machine users can process up to 18 letters per minute via a manual feeding system. This can be achieved on any mail item up to 8mm thick, with compatible franking labels being available for larger parcels. Every impression will be clean and clear, making it easier for the Royal Mail to process the mail pieces.
As well as this the DM60 franking machine comes with an integrated weighing scale as standard. Users will be able to use this feature to ensure they pay the correct amount for every mail item. A 2.5 Kg scale is available as standard, proving very beneficial to any business.
Receive some low cost Pitney Bowes DM60 franking machine supplies here.
Pitney Bowes DM60 Specifications
Take a quick look at the Pitney Bowes DM60 digital franking machine specifications, as released by Pitney Bowes.
Franking Speed:

18 letters per minute

Feeder:

Manual

Maximum Envelope Thickness:

9.5mm

Connectivity:

Wi-Fi or LAN

Weighing Platforms:

2.5 Kg

Advertisements:

5

Departmental Accounts:

10

Job Memories:

Yes

PIN Security:

Yes

Smart Meter Technology:

Yes

Mailmark Technology:

Yes

Length of machine:

351mm

Depth of machine:

264mm

Height of machine:

231mm
There are many digital franking machines available on the franking machine market, with the Pitney Bowes DM60 being one of them. Here at Mailcoms we can supply our very own range of digital franking machines. Click here to see if we can supply you with a suitable franking machine and receive a low cost quote for a model similar to the Pitney Bowes DM60.