About the Frama Matrix F32 Postage Meter
The Frama Matrix F32 postage meter is currently Frama's low to mid volume postage meter. The Matrix F32 is suitable for businesses that frank slightly more mail per day. As such the Frama Matrix F32 postage machine comes with some features, but like other postage meters, it will prove advantageous to a business.
About the Frama Matrix F32 Postage Meter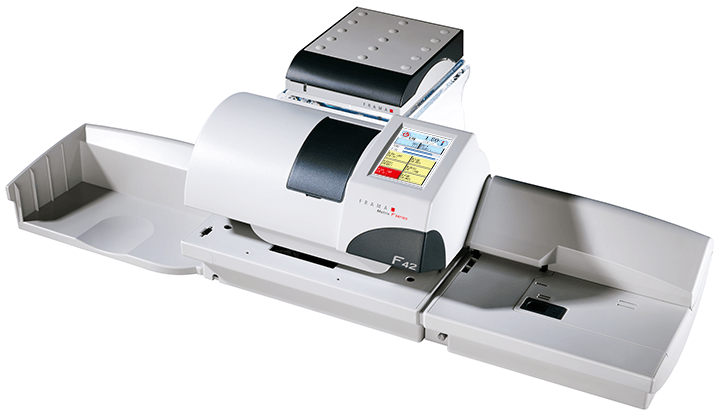 The Frama Matrix F32 postage meter was one of the first Mailmark and Smart Meter compliant machines on the market, and as such it can now offer a range of extras and benefits. The cheapest tariff will always be used, a more professional frank will be applied and your business will save more money every day with the latest technologies.
With connection to a LAN connection your postage meter will always receive faster download speeds and update speeds. No more waiting for the phone line to be free. This benefit, along with storing a range of adverts on the machines memory, will further help save your business time and money.
The Frama Matrix F32 postage meter can also process up to 50 letters per minute via its semi-automatic feeder. This will help ensure your mail volumes are sent out the door on time, all the time. A weighing scale, storing job memories and using departmental accounts are other available features with this meter.
Click here to get some Frama Matrix F32 franking machine supplies.
Matrix F32 Further Details
View further franking machine details about the Matrix F32 postage meter below.
Franking Speed:

50 LPM

Feeder:

Semi-automatic feeding

Maximum Envelope Thickness:

10mm

Connectivity:

Wi-Fi or LAN

Weighing Platform:

2, 5 or 30 Kg option

Advertisements:

12

Departmental Accounts:

25 or 200

One Touch Functions:

30

Job Memories

PIN Security

Smart Meter Technology

Mailmark Technology

Length:

830mm

Depth:

380mm

Height:

220mm
The Frama Matrix F32 postage meter is just one low to mid volume franking machine currently available. Here at Mailcoms we can supply you with our own unique range of postage meters. View our range of franking machines here and receive a low cost quote for a postage meter similar to the Matrix F32.