IMPORTANT UPDATE: System Update Available for the Mailstart + & DM60 (K722) Franking Machines
In order to ensure that all the Mailstart + & DM60 franking machines meet the latest Royal Mail Mailmark requirements, and to ensure it is ready for future changes, it is necessary for a new software update to be installed on your existing Mailstart + & DM60 meter.
System Update Available for the Mailstart + & DM60 (K722) Franking Machine
This important system update is available to download from Monday 23rd November 2015 and it MUST be updated by Saturday 5th December 2015. Please can all our Mailstart + users and DM60 users complete the appropriate actions for this update by 5th December 2015 to ensure your meter is fully compliant.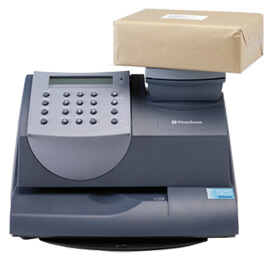 In order for this system update to occur successfully on your Mailstart + or DM60 franking machine you should either follow our instructions below or download our instructions PDF here.
PLEASE NOTE: Allow approximately 10 – 15 minutes to complete the update. Also you may need to make two connections to complete the download of your new software
If you're not already connected, connect your franking machine as you would when adding postage.
At your franking machine, conduct a Balance Enquiry like so.
Press the Funds

key
Press the

Review down arrow

key until you see "

Check balance available?

".
Press Enter/yes. Your franking machine will connect with the Data Centre and display this message:

Checking PbP Account Balances…
When connection is complete, your Postage by Phone account balance will appear. At the Postage by Phone balance screen press no key to both "

Prepaid

" and "

Refill Postage?

"
When the message "

System Update Required-please wait

" is displayed, press

Enter/yes key

.
Your meter will display the status of the download which will take approximately 5 minutes to complete. After the % Complete reaches 100%, the franking machine will display several messages and reboot while it prepares the new software.

WAIT

until the franking machine prompts "

Download Complete

" and then press

Enter/yes key

.
Do not unplug your power cord or disconnect your connection to the PB Data Centre at any time during this process. This could cause damage to your meter and require replacement.
Depending on your franking machines configuration, one or more messages will display. For example "During the Call: Sys. Files Install" may appear. Press the

Enter/Yes key

for each message. Once complete, the franking machine will return to the Home screen.
Important:

If your meter did not display "

Connection Required Connect-Press Enter

" during step 6 you will need to connect for a second time to Upload Data, follow steps 2 & 3 above again.
This is all you will need to do to update your franking machines system. PLEASE NOTE: This is for the Mailstart Plus (+) & DM60 (K722) franking machines.
Click here to download the system update instructions for the Mailstart + & DM60 franking machine.