Pitney Bowes K700 Franking Machine – Guide By Mailcoms
The Pitney Bowes K700 Mailstation franking machine is a entry level franking machine supplied by Pitney Bowes. This machine is similar to the DM50 and DM55 franking machine models but this machine is slightly slower at franking. The K700 postage machine comes with an integrated weighing scale as standard and this allows you to weigh and calculate your postage easily and accurately all the time.
Pitney Bowes K700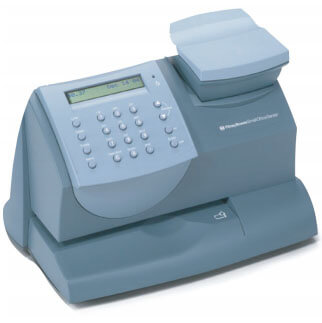 As well as a weighing scale, the Pitney Bowes K700 postage machine comes with even more functions and features that will aid any business using this machine. You can use up to 9 advertisements on this machine and this will enable you to advertise on your mail for free. Help expand your business name and make personalised mail items for all your customers. You can also use a departmental account feature that will enable you to track your postage usage by department. This can be very useful for businesses wishing to track and monitor their mail.
Entry Level Franking Machine (Speed of up to 18 letters per minute)
This entry level franking machine comes with a manual feeding system that allows you to frank up to 18 letters every minute. Although this is a slower way to frank, the Pitney Bowes K700 will still frank your mail cleanly and professionally. This machine is also recommended to frank up to 75 items of mail everyday in order for your to benefit from the much lower franking prices. See how much you can save when franking mail with the entry level K700 model.
Receive a low cost Mailmark Quote for a similar machine here.
Receive a low cost Franking Machine Quote here.
Pitney Bowes K700 Specifications
View the specifications to the Pitney Bowes K700 Franking Machine here.
Speed: 18 letters per minute
Volume: Up to 75 items a day
Feeding System: Manual
Weighing Scale: 5 Kg scale
Connection Method: LAN Connection or Telephone
Envelope size: DL, C5 & C4
Max. Envelope thickness: 8mm
Advertisements: 9
Departmental Accounts: Yes
Smart Meter Enabled: Yes
Dimensions: Height: 213mm, Length: 351mm, Depth: 264mm
Dimensions: Weight: 4 Kg
Electrical: 120V, 60Hz