Mailmark Barcode 2014 – By Mailcoms
Now that Mailmark can now be used in a wide range of franking machines, it brings with it many useful benefits and features. One of the main features that come with a Mailmark franking machine is the Mailmark Barcode. Mailmark barcode technology will offer users web based reporting via an online analytics dashboard, slightly lower franking prices and much more.
What is the Mailmark Barcode?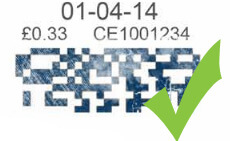 Mailmark is a brand new alternative to the traditional stamp, and with it brings a brand new 2D barcode (example above). This 2D Mailmark barcode holds important information for the Royal Mail, allowing your mail to be processed faster and easier. The Mailmark barcode will hold important information about the sender, the receiver and the mail item. Currently, Mailmark is an optional choice, but Royal Mail will be trying to implement it into all franking machines in the future.
Mailmark Barcode Benefits
This brand new feature also allows UK businesses to gain access to even more franking benefits, previously not gained with a regular franking machine. The new 2D Mailmark barcode will allow you to gain access to these extras. Some of the extra Mailmark barcode benefits include:
Even lower franking prices
A more modernised and professional business image on your mail
Automatic postal rate updates directly from Royal Mail
Constant tracking of all your mail
Web Based Reporting available
Mailmark Franking Machines
If your business would like to gain access to the above benefits, then you will require a Mailmark compliant franking machine. With a Mailmark compliant franking machine, you will be able to produce a Mailmark barcode impression and benefit from using the brand new Royal Mail service. If you would like a Mailmark franking machine, then you can receive a quick quote from us today.
Receive a Mailmark Quote here.