Reasons To Use Direct Mail As A Means Of Communication
In today's digital era, more and more email marketing campaigns are being sent as a means of communication with customers. This creative and fun method of communication, in recent times, has started to replace direct mail. However times are changing. With the announcement of GDPR in 2018, almost all businesses have had a steep learning curve and this has affected how and when email marketing is to be used.
From the customers aspect, it has become the norm to delete advertising emails from the informative emails. Within a few clicks the advertising emails are gone. Direct mail however can play an important role in easing any concerns with GDPR, acting as an alternative and getting the job done in a reliable and cost effective way. Below are some reasons for why direct mail should be used as a means of communication.
Reliable & Works
Using the Royal Mail and the UK postal service is a sensible choice to make. It ensures your direct mail is received quickly and effectively, and with a franking machine the cost is low. Most people are fed up of receiving impersonal and bulk email marketing, but the post is something we usually look forward to receiving. According to Royal Mail, direct mail "remains one of the most effective channels for connecting with customers and generating new leads" with a "stronger brand recall" when compared to email marketing. Direct Mail is literally placed into the customers hands and usually read making it worthwhile sending.
Tangible & Lasts
Mail is tangible and will reach your customers. It is guaranteed to be at least seen, with it usually being opened and read. If your mail has your brand on as well, it will be a trusted source of information. Email marketing does not always give this. Within any given business, the mail item will most likely be passed between multiple people, meaning the chances of it being read are further increased and the mail item itself lasts longer than any email will ever last.
Personal & Versatile
A standard working day starts with us deleting emails that are advertising or pointless to our needs. Customers are more likely to feel communicated with directly if a personal letter arrives on their desk in comparison to a generic email. The amount of email being sent on a daily basis keeps on increasing and this means the likelihood of your email being read keeps decreasing. The variety of direct mail options available at your dispense is also very wide. Postcards, brochures, magazines can all be sent, making direct mail more versatile. Businesses can be more creative and send striking images and documentation which adds more value to your recipients.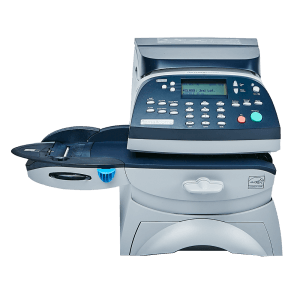 Sending direct mail is a powerful marketing strategy to use, but only if deployed when using the right software and equipment. Using the latest technologies makes the entire process easier and money saving. Franking machines for example can enhance your direct mail as one can be used to add advertising messages and logos onto mail items. This will allow you to stand out from the crowd!
Mailcoms are one of the Royal Mail's Authorised independent inspectors and maintainers of franking machines and as such we can provide you with a Mailmark franking machine to suit your needs. Whether you want to buy or rent a franking machine, or just genuinely want some advice on making this decision, we are more than happy to help.
A Mailmark franking machine can help massively when sending your mail. If you are interested in getting a franking machine or upgrading to a Mailmark franking machine with even lower prices available, then please view our franking machine page here or call us today on 01543 572 776.