Pitney Bowes DF800 Office Right Folder – Guide By Mailcoms
Pitney Bowes DF800 Office Right Folder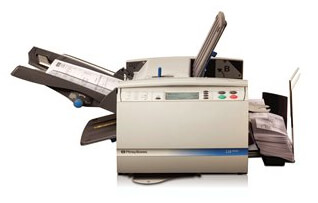 High Volume Office Right Folder (13,000 pieces per hour)
The Pitney Bowes DF800 Office Right Folder is another piece of mail room equipment that can help improve productivity when folding your mail. This is an automated folding machine which will fold your mail up professionally and at a tremendous speed. This is a simple and cost effective way to release staff from one of your businesses most tedious jobs.
The Pitney Bowes DF800 Office Right Folder can handle many different paper weights and sizes. With seven folding options, you have the power to fold and present your documents how you want. Try and impress customers with your professionally folded mail with this great piece of machinery.
By using the Pitney Bowes DF800 Office Right Folder, you can make considerable savings by presenting your mail in a economical way. You can save your business time and money by folding mail at a top speed of 13,000 items every hour. You can also use the DF800's high capacity feeder to load 325 sheets at one time. You can load the machine while is is operation and this high capacity feeder can handle documents up to 120 gsm in paper weight.
Another feature with the Pitney Bowes DF800 machine is its ease of use. This machine comes with a clear to see and use LCD control panel. This can guide any operator through the process of creating and editing jobs. You can even store and recall up to 20 pre defined jobs on this control panel, and this can occur at the touch of a button.
Pitney Bowes DF800 Specifications
Speed: 13,000 documents per hour
Optional Conveyor Holds: 500 folded documents
Standard Stacker Holds: 135 documents
Pre-Defined Jobs: 20
Fold Options: Single Fold, Z Fold, C Fold, Gate Fold, Double Fold, Offset C Fold, Offset Z Fold
Minimum Paper Size: 127mm x 127mm
Maximum Paper Size: 229mm x 406mm
Minimum Paper Weight: 55g / m2
Maximum Paper Weight: 120g / m2
Maximum Sheets: 5
Dimensions: Depth: 513mm, Length: 614mm, Height: 439mm
Dimensions: Weight: 22kg
Electrical: 120 to 220V, 50/60 Hz