Neopost IS350 Franking Machine Overview
The Neopost IS350 franking machine is a low to mid volume machine that is slightly more advanced than the IS330 model. The IS350 is slightly faster and possesses slightly more franking machine features. Based on our experience with a similar machine we would highly recommend users to be sending out up to 200 items of mail per day.
Neopost IS350 Franking Machine Features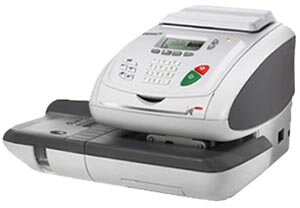 As this is a low to mid volume machine it comes with some franking machine features that entry level models do not. Its features range from a pass through feeder to various job memories. Find out about some of this machines features in detail below.
Smart Meter Technology
One franking machine feature that comes with the Neopost IS350 franking machine is smart meter technology. This technology allows users to access all of the Royal Mail's VAT services and products. Data Capture is used in a smart meter franking machine meaning that when a VAT service is used Royal Mail are notified. As well as this, smart meter technology allows you to frank mail in smart blue ink which is more readable than the traditional red colour.
Feeding System
The feeding system that is used in the Neopost IS350 franking machine is a pass through feeder. This feeder can frank at a top speed of 40 letters per minute and onto any mail item that is 9mm thick or less. A franking machine with this speed is suitable for any business that sends out up to 200 items per day.
Advertising Feature
The Neopost IS350 franking machine can use up to 8 different adverts / slogans on outgoing mail which will help businesses attract new customers and improve their image. Use this tool as a free marketing tool, expand your business name and improve your professional image with this feature.
Mailmark Technology
The latest Mailmark technology is integrated into this machine and this allows all users to benefit from using the lowest franking discounts. Mailmark technology is a brand new initiative which can be highly beneficial. Use a secure LAN connection, track your postage and always use the correct postage prices are just some of the great benefits. Find out more about Mailmark here.
Integrated Weighing Scale
One final franking machine feature that can be used with the IS350 model is an integrated 3 Kg weighing scale. This scale will accurately calculate the correct postage price every time, eliminating any risk of miss paying for a mail piece. The most recent postage prices will be integrated into the machine meaning that users will always pay the correct postage price.
View our range of Neopost IS350 franking machine supplies here and see how much you can save when buying from us.
View our range of franking machines here and receive a quick franking machine quote for a similar model to the Neopost IS350.