Neopost IS330 Franking Machine Overview
The Neopost IS330 franking machine is a low to mid volume franking machine suited for businesses sending up to 200 items per day. If you send this much mail on a daily basis then the IS330 may be perfect for you. This is a recommendation and larger volumes of mail can still be franked if required making this a flexible machine.
Neopost IS330 Franking Machine Features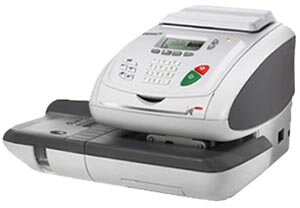 Like any franking machine the Neopost IS330 franking machine comes with many franking machine features. These features range from integrated weighing scales to the most recent Mailmark technology. View some of the IS330 features in more detail below.
Smart Meter Technology
One feature that is used with the IS330 is smart meter technology. This is older technology but still very important to use in your franking machine. Smart meter technology gives businesses access to all VAT liable services whilst franking mail in smart blue franking ink. Cleaner and clearer impressions will be produced with this ink.
Mailmark Technology
As well as smart meter technology the latest Mailmark technology can also be used with the Neopost IS330 franking machine. This is newer technology and very beneficial to use. Mailmark technology will frank a 2D barcode onto all mail items and this gives you access to lower franking prices and more. This technology is not mandatory and so it doesn't have to be used although it is recommended.
Advertising Feature
Like many other franking machines, the IS330 gives you access to a free marketing tool. Frank adverts and personalised messages onto your outgoing mail and improve the overall look of your mail. This can help grab customers eyes and improve your business image. The IS330 allows you to use up to 8 different advertisement slogans.
Feeding System
Another feature that comes with this franking machine is its pass through feeding system which is integrated into the franking machine. This feeder is capable of franking at a top speed of 40 letters per minute and onto any mail item as thick as 9.5mm. Thicker parcels and items can be franked via the use of franking labels.
Weighing Platform
A final franking machine feature that can be accessed with the Neopost IS330 franking machine is a weighing platform. Use a 2 Kg weighing scale as standard with this machine and never again worry about over or under paying for a mail item. This scale is integrated into the franking machine.
Get low cost franking machine ink for the Neopost IS330 franking machine from Mailcoms. View our range of Neopost IS330 franking machine supplies here.
View our range of franking machines here and save money on your next franking machine.