Neopost DS-62 Folding Inserting Machine – Guide By Mailcoms
A folding inserting machine, also called a folder inserter, will allow your mail to look professionally folded every time and it they are much quicker in operation. The Neopost DS-62 folding inserting machine is no different, and this model will be able to benefit any business. This model machine is supplied and manufactured by Neopost.
Neopost DS-62
The Neopost DS-62 folding inserting machine is an automatically adaptable machine to suit your business needs. No need for skilled operators as everybody can use the DS-62 to their advantage. Load documents and envelopes in the machine and press GO. You can even store up to 9 job memories for your most commonly used jobs. This machine will also give you quick and easy access to all parts of the process if an error occurs. A break in the production will cause very little problems.
As well as the above, the Neopost DS-62 folder inserter will collate and assemble all your mail documents before folding them, resulting in magnificent and professional folded mail. When the customer opens their mail, it will be presented in the right order, making a good impression. Also fold both stapled and unstapled mail items, giving your endless folding opportunities.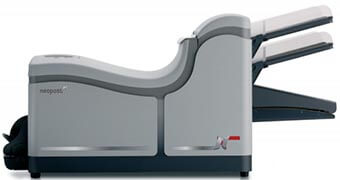 Low to Mid Volume Folding Inserting Machine (speed of up to 2,200 letters per hour)
The Neopost DS-62 folder inserter is a low to mid volume folding inserting machine and when it is in full operation it can fold at tremendous speeds reaching 2,200 letters per hour. This speed is ideal for any business wishing to fold their mail correctly and professionally with very little effort involved.
If you would like a similar folding inserting machine to the Neopost DS-62, then you can receive a low cost Folding Inserting Machine Quote from Mailcoms.
Neopost DS-62 Specifications
View the specifications for the Neopost DS-62 folding inserting machine here.
Speed:

2,200 Cycles per Hour

Fold Types:

Letter Fold, Zigzag Fold, Single Fold, Double Parallel, No Fold

Job Memory:

9

Number of Feeders:

up to 2 A4 + 1 Insert Feeders

Document Feeder Capacity:

325 Sheets

Envelope Feeder Capacity:

150 Envelopes

Set Thickness:

2mm

Daily Mail:

Yes

Cascade from all Feeder:

Yes

Multiple Sheet Feeding:

Yes

Tailor Made Furniture:

Optional

Print Machine Document Software:

Optional

Dimensions:

1200mm x 520mm x 420mm

Dimensions:

Weight: 75 Kg