Neopost DS-1000 Folding Inserting Machine – Guide By Mailcoms
The Neopost DS-1000 folding inserting machine is a highly productive machine manufactured and supplied by Neopost. This mail room equipment allows you to fold your mail easily and professionally. You can get guided through the folding process and the DS-1000 is that smart that if a mail item fails to envelope the DS-1000 will reject it and carry on operating.
Neopost DS-1000
The Neopost DS-1000 folding inserting machine comes with an entire range of features that make this machine perfect for any large business sending large volumes of mail every day.
To help with ease of use, this machine comes with a full colour touch screen which will enable users to navigate and use the DS-1000 with incredible ease. You can also have unlimited amounts of job memories with this machine, meaning that any job you see fit to be commonly occurring can be saved for future usage, all available at the touch of a button.
Take advantage of many feeders with the Neopost DS-1000 and use the wide range of inserts available to you. Booklets, flyers and even CD's are just some inserts that can be fed though this incredible machine. You can use a fully automated separation feature for rapid job changes when in operation. These are just some of the features that come with the Neopost DS-1000 folding inserter.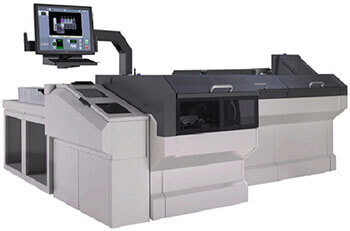 High Productivity Folding Inserting Machine (speed of up to 8,000 envelopes per hour)
This folder inserter supplied by Neopost is an extremely highly productive machine and is capable of reaching incredible folding and inserting speeds. Built for greater performance and high levels of productivity, the Neopost DS-1000 will not let you down. Reach a top speed of 21,000 documents every hour or 8,000 envelopes every hour with this brilliantly highly productive folder inserter.
If you would like to purchase a folding inserting machine similar to the Neopost DS-1000 from Mailcoms, then receive a low cost Folding Inserting Machine Quote from us today.
View our range of Neopost DS-1000 Folding Inserting Machine Envelopes here.
Neopost DS-1000 Specifications
View the specifications for the Neopost DS-1000 folding inserting machine here.
Speed:

8,000 envelopes an hour

Speed:

21,000 documents an hour

Set Thickness:

8mm

Job Memories:

Unlimited

Document Feeder Capacity:

5,000 or 2,000 documents (Optional)

Document Sizes:

A5, A4 or up to 400mm

Document Weight:

70 gsm – 130 gsm

Folding Capacity:

8 sheets

Folding Types:

C fold, Z fold, V fold or Double-V fold

Insert Sizes:

A6 to A5

Insert Thickness:

0.1mm to 6mm

Insert Feeder Capacity:

1,000mm or 500mm (Optional)

Envelope Feeder Capacity:

2,000 or 1,000 (Optional)

Vertical envelope stacker:

Yes, up to 1,500 envelopes

Cascade from Feeders:

Yes

Sheet Divert:

Yes

Barcode Recognition:

Yes

Multi-Sheet Feeding:

Yes

Touch Screen:

Yes

Dimensions:

Width: 3000mm, Depth: 725mm, Height: 454mm

Dimensions:

Weight: 920 Kg