FP Mailing Qi-3000 Franking Machine Overview
The FP Mailing Qi-3000 franking machine is a heavy duty model capable of franking at tremendous franking speeds so that large mail volumes can be sent out daily. Send out well over 1000 mail items per day when using this franking machine. Based on our own experience with similar franking machines we would recommend users to frank over 1000 items per day to truly benefit from using this model.
FP Mailing Qi-3000 Franking Machine Features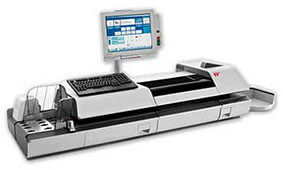 All franking machines come with franking machine features and the FP Mailing Qi-3000 franking machine is no different. Benefit from using a massive range of features with this model. Features range from a useful feeding system to the most up to date franking technologies. View some of the Qi-3000 features in more detail below.
Feeding System
One key feature the FP Mailing Qi-3000 franking machine possesses is a fast feeding system. Use a fully automatic feeder to frank mail items at incredible speeds reaching 260 letters per minute. A slower speed of 140 letters per minute can also be used when using the dynamic weighing speed feature. Simply load your letters and let the franking machine do the rest. Frank onto any mail item that is up to 20mm in thickness.
Range of Weighing Scales
This heavy duty franking machine allows you to choose from a range of internal and external weighing scales. Choose from a 3, 5, 10, or 30 Kg weighing scale and help ensure that you never over pay for your mail. Accurate postage will always occur helping you to save money from any mistakes. No more guessing will be required.
Colour Touchscreen
For ease of use a full colour touchscreen is integrated into this franking machine. Frank mail with ease by using the control panel to navigate around the various franking options and speeds. Access various job memories easily and quickly via the touchscreen. No specialised training will be required before use as it is simple and clear.
Mailmark Technology
Another feature that can be used with the FP Mailing Qi-3000 franking machine is the most up to date Mailmark technology. This means that the lowest franking discounts can be used and a brand new 2D barcode can be used when franking. This can benefit any business as tracking of mail can occur. Mailmark is brand new technology released by Royal Mail during 2014. Find out about Mailmark here.
LAN Connectivity
One final feature that can be used with the Qi-3000 is LAN connectivity. With Mailmark businesses can drop the analogue line for good and use a super fast LAN connection. This will improve reliability with the internet and enable you to re-credit the franking machine with ease. Always ensure that you have postage available for use. Top up when you want, adding to the convenience of using LAN.
If you would like a franking machine similar to the FP Mailing Qi 3000 then you can view our range of franking machines here and receive a quick and low cost franking machine quote.